In an age where technology dominates, the allure of traditional timepieces remains unwavering. Among these, dual time watches have carved a niche for themselves, particularly among frequent travelers and professionals.
These watches, also known as GMT watches, allow wearers to track two time zones simultaneously, making them an indispensable tool for many. In this comprehensive guide, we delve deep into the world of the best dual time watches, exploring their history, functionality, and the top brands that have mastered this art.

A Spark of Creation
The concept of portability in timekeeping began with the development of pocket watches and later wristwatches. As travel became more accessible and frequent, especially with the advent of aviation, there was a growing need for watches that could display time in more than one time zone.
This need led to the creation of dual time watches, allowing wearers to track local time and the time in another location simultaneously.
Features to Look for in the Best Dual Time Watches
Not all dual time watches are created equal. Understand the key features that set apart the best from the rest. From the intricacies of the movement to the aesthetics of the dial, know what to look for when investing in one.
Clear Display of Both Time Zones: The primary purpose of a dual time watch is to display two time zones simultaneously. Ensure that both time zones are easily readable, with one typically displayed on the main dial and the other on a subdial or via an additional hand.
Day/Night Indicator: This feature helps you quickly determine whether it's day or night in the second time zone. It's especially useful to avoid calling someone in the middle of the night.
Quick-Set Feature: A quick-set feature allows you to easily adjust the second time zone without affecting the main time. This is particularly useful for frequent travelers who move between time zones.
Durability and Water Resistance: If you're a frequent traveler or lead an active lifestyle, you'll want a watch that can withstand the rigors of travel. Look for watches with a sturdy build and a decent water resistance rating.
Legibility: Ensure that the watch face is easy to read, especially in low light conditions. Luminous hands and markers can be beneficial.
Movement: The movement of the watch determines its accuracy and reliability. Swiss movements are often considered top-tier, but there are many quality movements from other regions as well.
Material and Build Quality: Consider the materials used for the watch case, strap, and crystal. Stainless steel, sapphire crystal, and genuine leather or high-quality rubber are indicators of a well-made watch.
Recommendations: Best Dual Time Watches
On the hunt for the best dual time watches? Don't worry, we've got you covered. Delve into our curated list of them here.
Farer Lander IV Watch
Inspired by watches worn by some of the greatest explorers of the past century, the Farer Lander IV is a modern GMT timepiece. It features a 39.5mm case with an ETA 2893-2 automatic movement. The handsome blue dial has a mid-century inspired design, and the bronze crown adds a touch of style. The contrasting red GMT hand and the local time seconds hand balance the overall look of the dial.
Sinn 857 UTC VFR Watch
This watch boasts a mighty stainless steel 43mm shockproof case, built with Sinn's "Tegiment" case hardening technology. It's certified for pilot watches and can operate reliably at extreme temperatures. The case also has a water resistance rating of 200m.
Bremont ALT1-Z Zulu Watch
Designed with aviators and world travelers in mind, this watch features an internal rotating bezel for the 24-hour scale. The 43mm Trip-Tick case houses a modified BE-54AE automatic chronometer movement.
Panerai Radiomir Chrono Monopulsante GMT Watch
This watch offers a masculine look with its 18K white gold case and fixed bezel. It features a black dial with rose gold-toned hands and hour markers. The watch has a hand-wound mechanical movement with an impressive 192-hour power reserve.
Omega Planet GMT Automatic Watch
A Swiss-made elegant timepiece with a blue dial, luminous hands, and index hour markers. The automatic movement has a 60-hour power reserve, and the titanium case offers a water resistance rating of 600m.
Citizen Promaster Navihawk A-T Eco-Drive GMT Watch
A complex watch with a myriad of functions, it's powered by light alone, eliminating the need for a battery. The dial offers both analog and digital displays, with features like radio-controlled synchronized time adjustment for up to 43 locations, a perpetual calendar, chronograph, compass, and more.
Rolex GMT Master II Watch
An iconic choice for a travel watch, it features the classic "Pepsi" ceramic bezel and red GMT hand. The 40mm case houses a COSC certified Rolex 3285 automatic GMT movement.
You might also like: 5 Best Watch Winders for Rolex GMT Worth the Investment 
Our Pick: Best Watch Winder for Dual Time Watches
When it comes to preserving the precision and functionality of your cherished dual time watches, the right watch winder can make all the difference. As enthusiasts of horological masterpieces, we understand the importance of maintaining the rhythm of your timepieces, especially when they're designed to track multiple time zones. With a curated selection that promises quality and sophistication, we're about to introduce you to a couple of our top picks.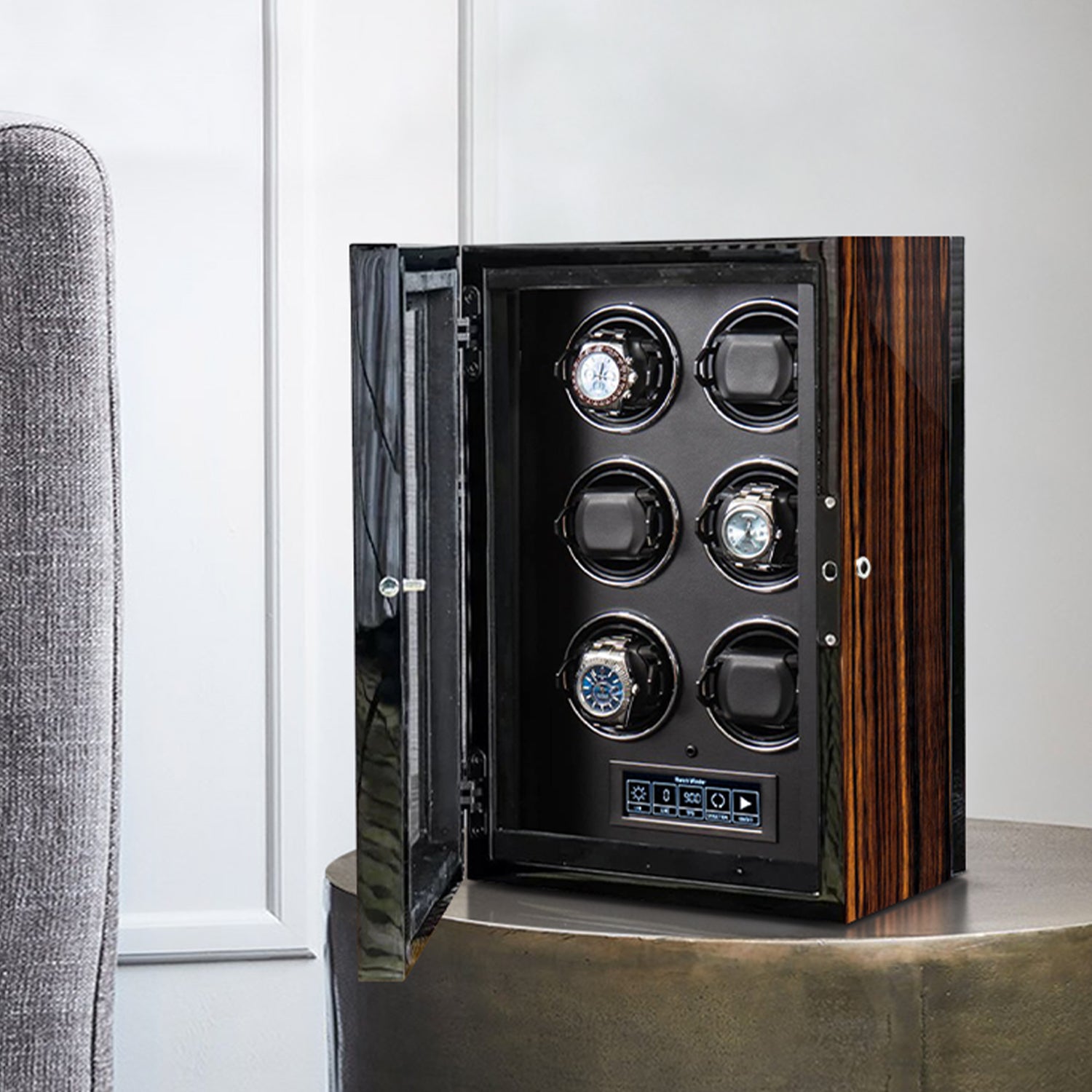 The Virtuoso™ 6 is not just a watch winder; it's a testament to craftsmanship and technological prowess. Designed to cater specifically to the needs of dual time watches, this winder ensures that your timepieces remain accurate, regardless of how often you wear them.
Its advanced winding mechanism mimics the natural movement of the wrist, ensuring that your watches are always ready to wear. With its sleek design and unmatched functionality, the Virtuoso™ 6 is an essential accessory for every dual time watch enthusiast. Discover its magic and elevate your watch collection today!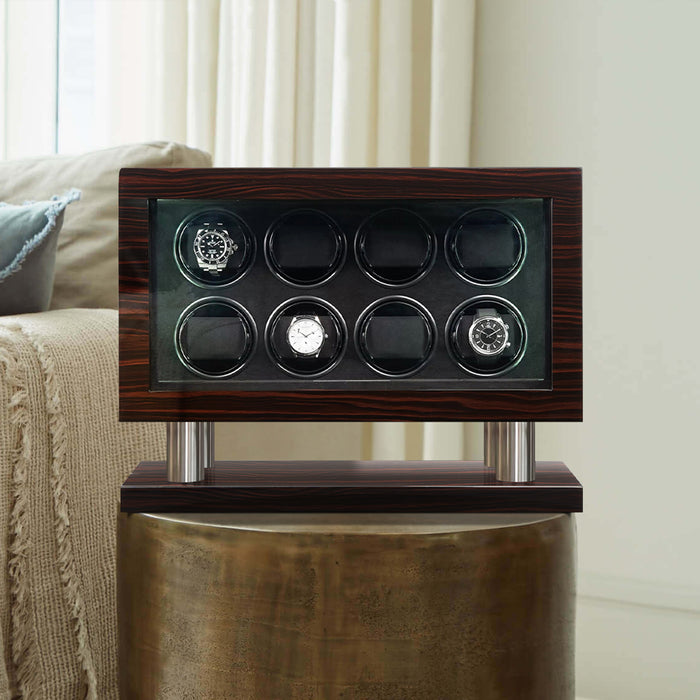 Dive into the world of luxury with the YACHTLINE™ Series 8. Crafted for the discerning watch aficionado, this winder is the epitome of elegance and functionality. Its state-of-the-art winding mechanism ensures that your dual time watches maintain their accuracy, even when left unworn for extended periods.
The design, inspired by the opulence of yachts, adds a touch of sophistication to any setting. With the YACHTLINE™ Series 8, you're not just investing in a watch winder; you're investing in a piece of art. Experience its grandeur and make it the centerpiece of your collection.
Conclusion
The world of best dual time watches is vast and fascinating. Whether you're a seasoned collector or a novice enthusiast, there's always something new to learn and explore. As the world becomes increasingly interconnected, the relevance and allure of these watches only seem to grow. So, the next time you're crossing time zones, do it in style with a dual time watch on your wrist.