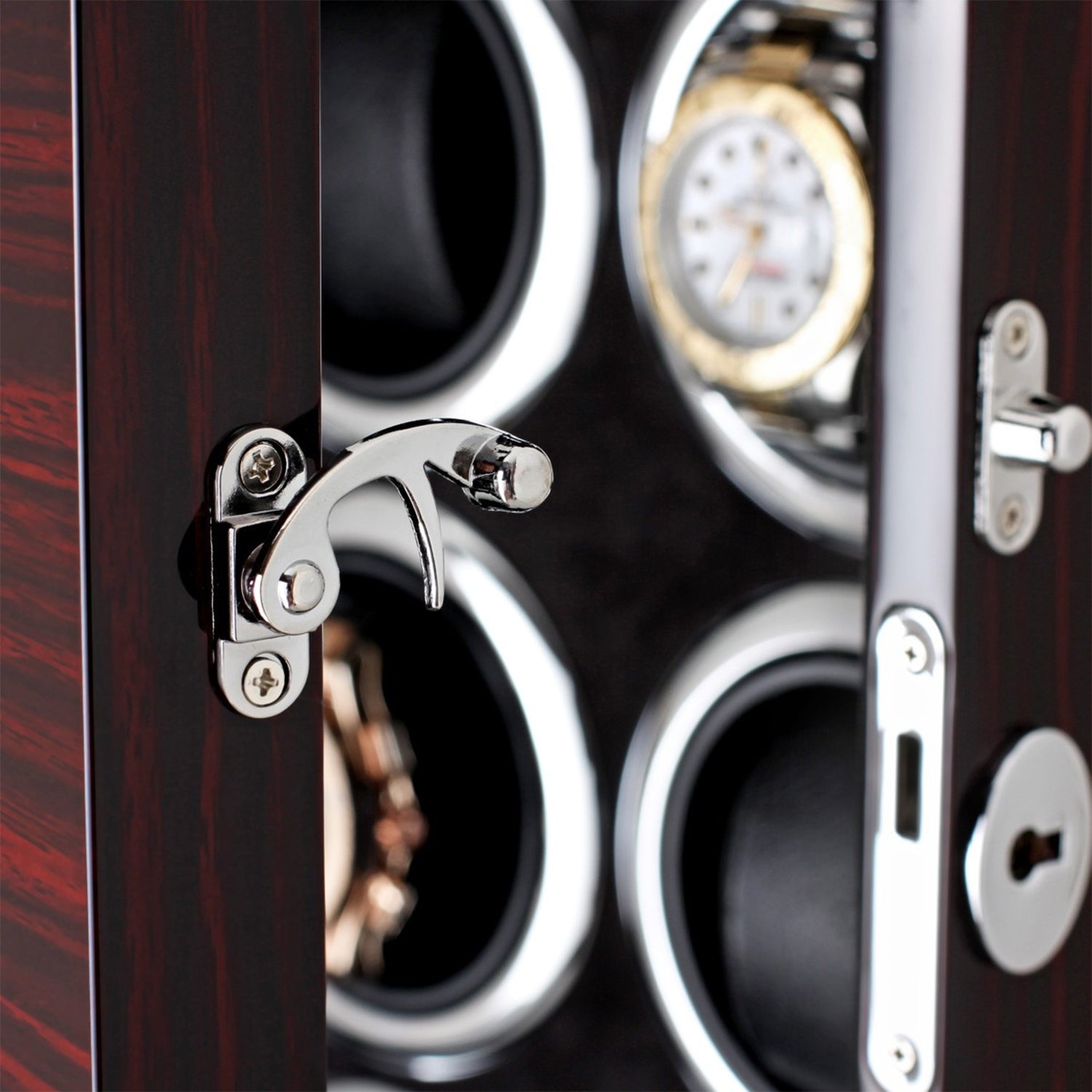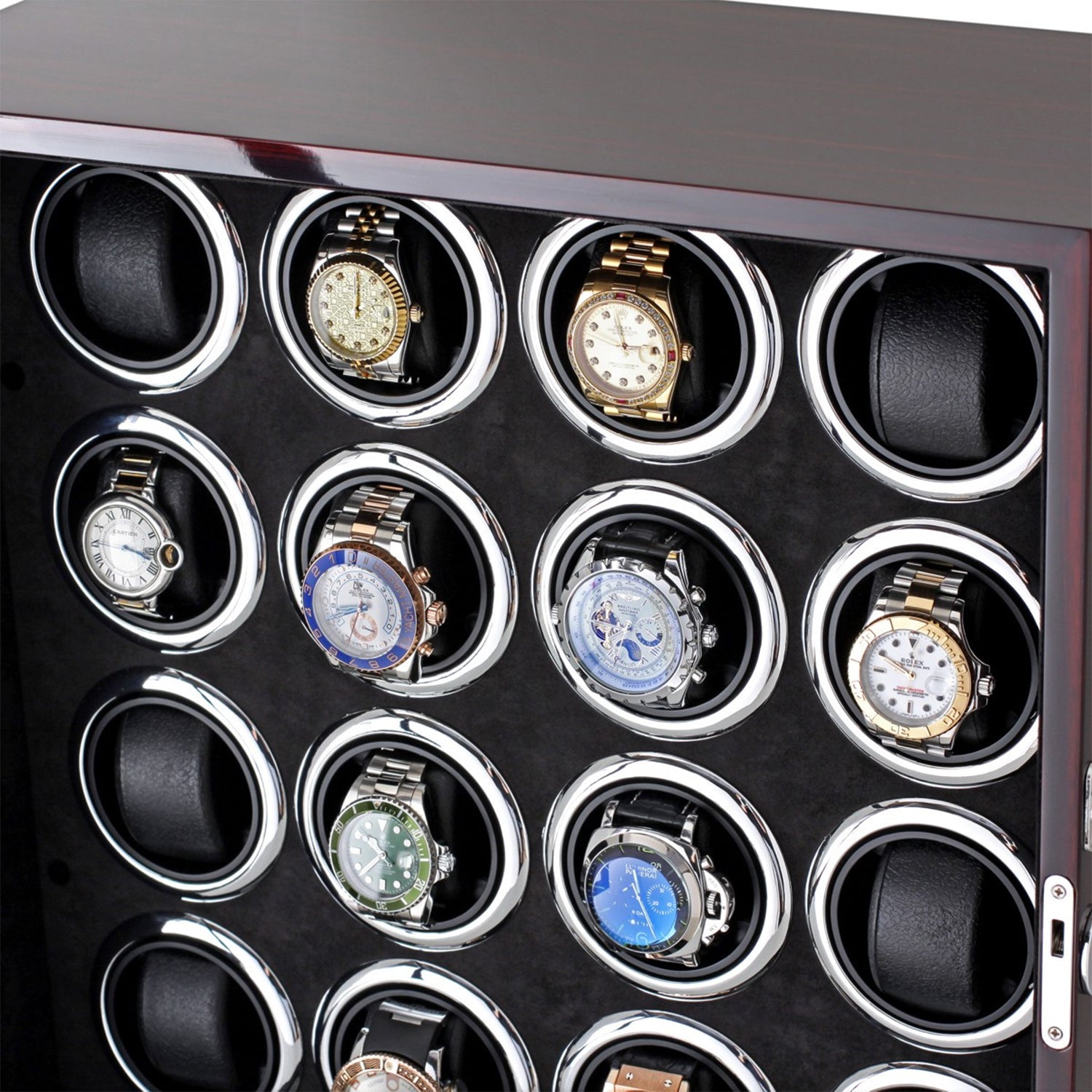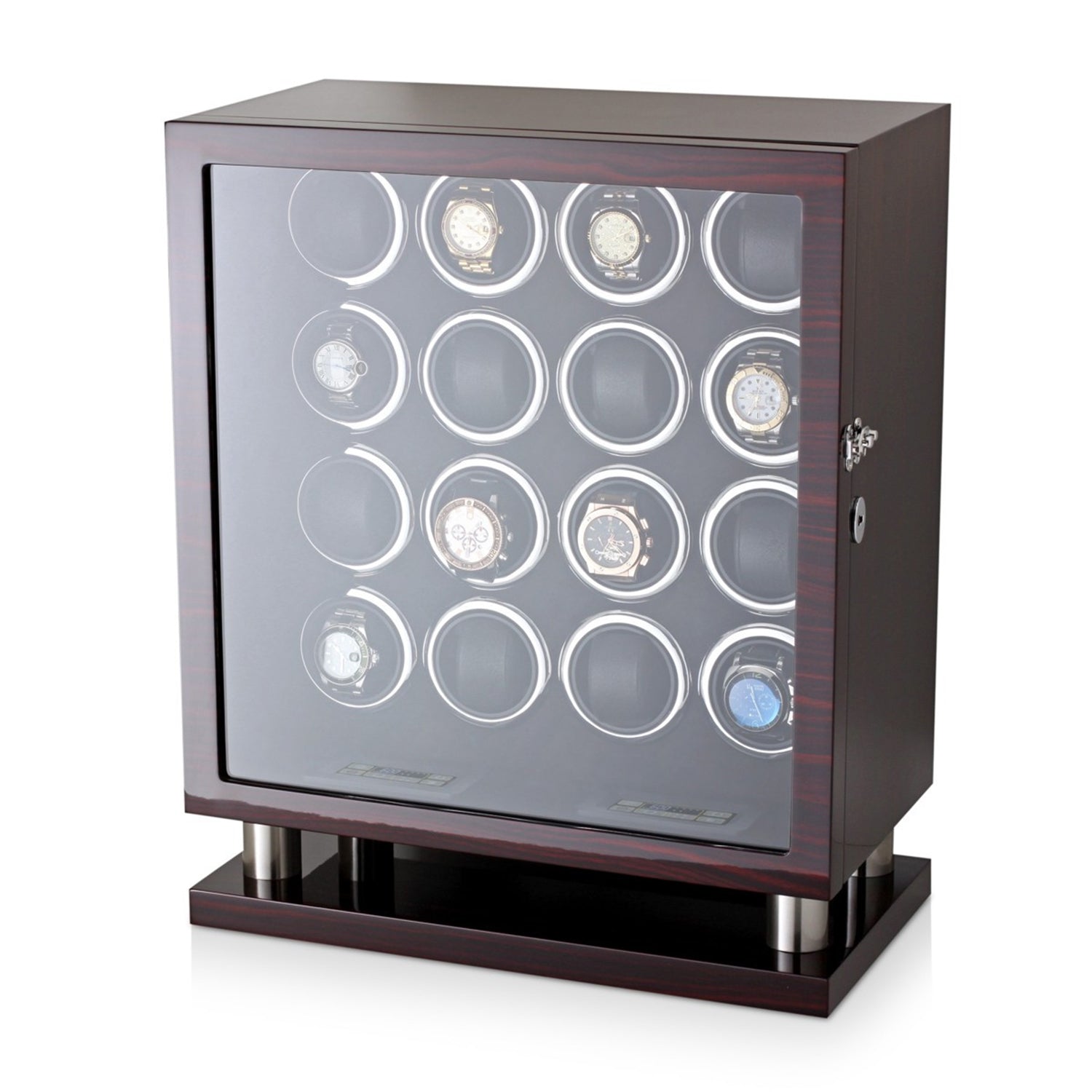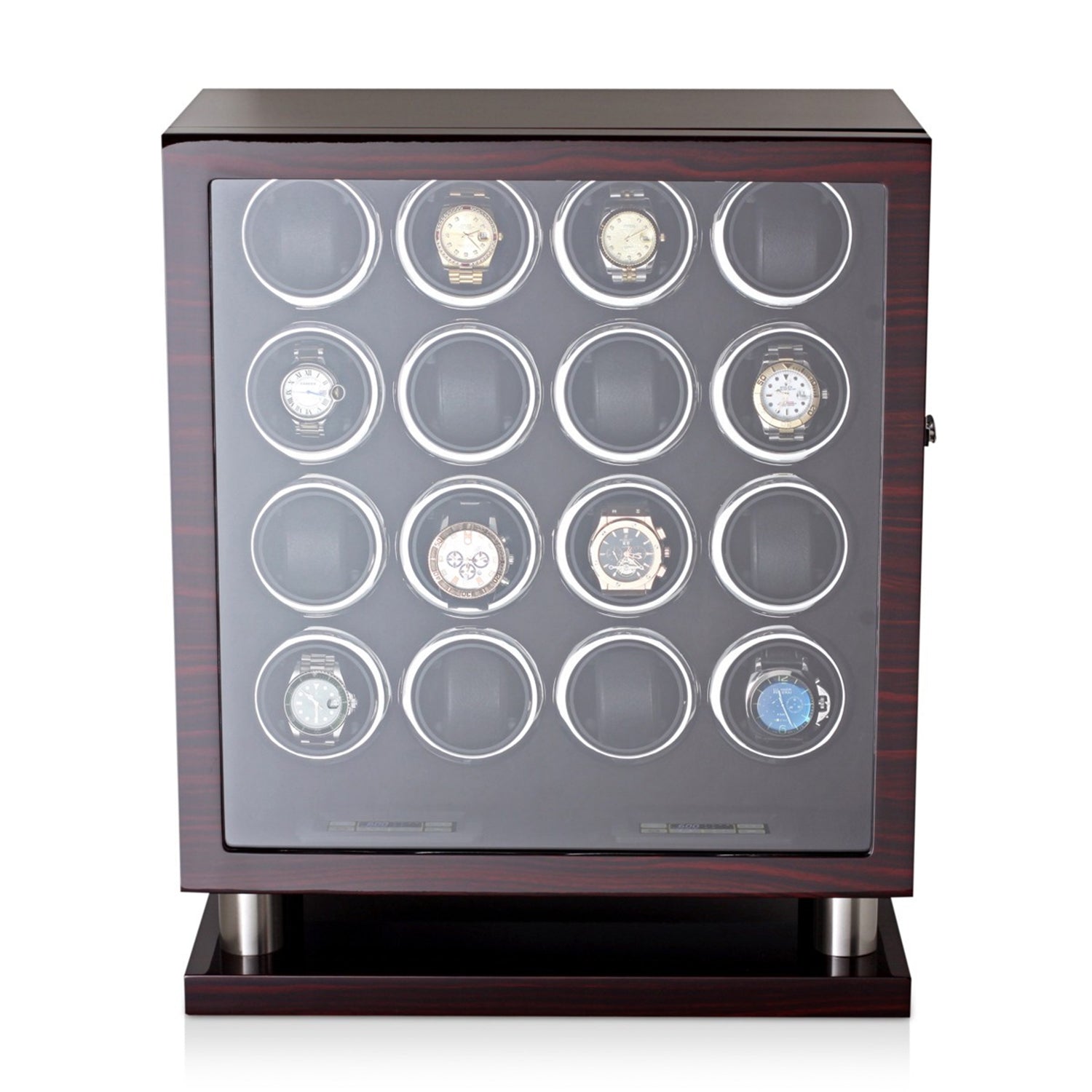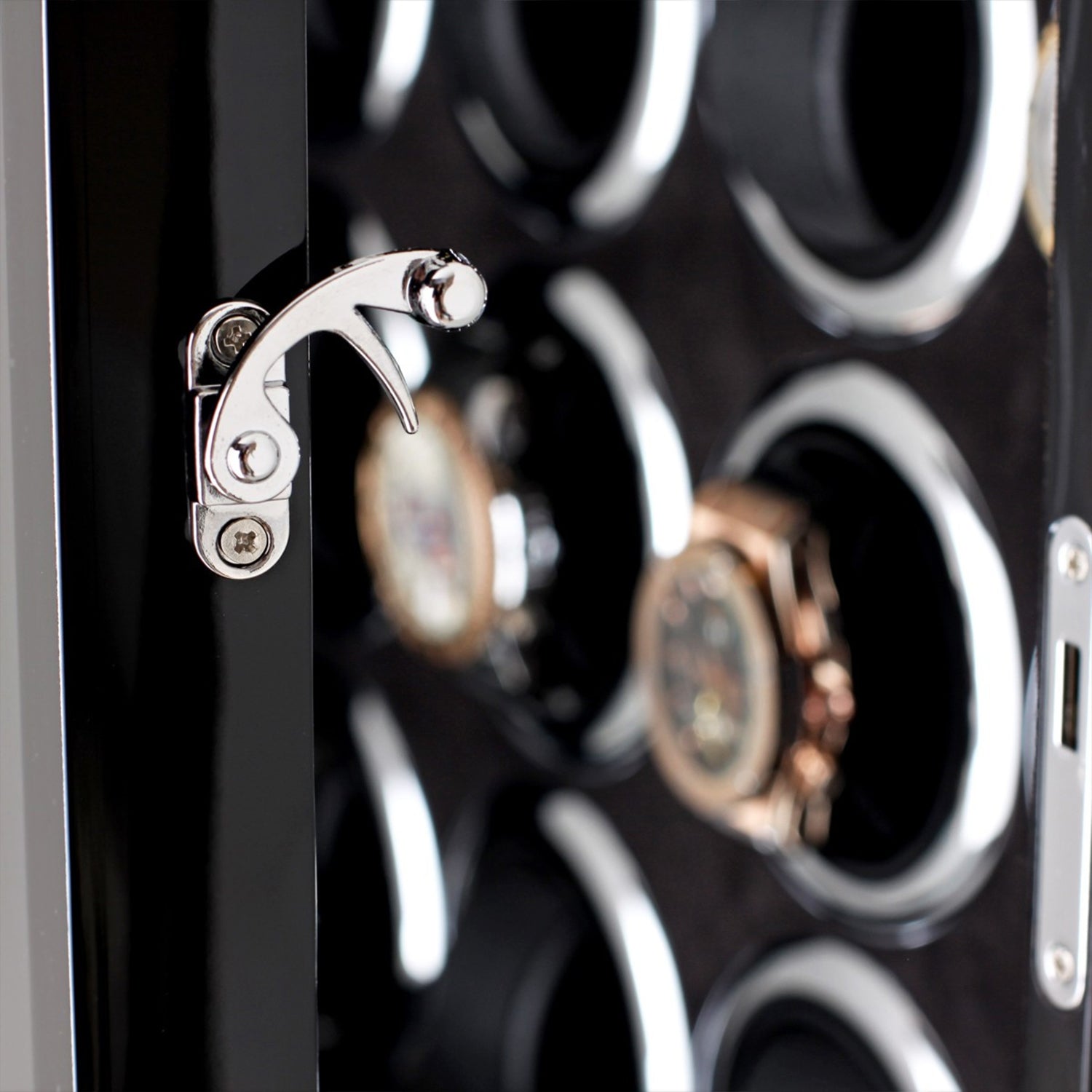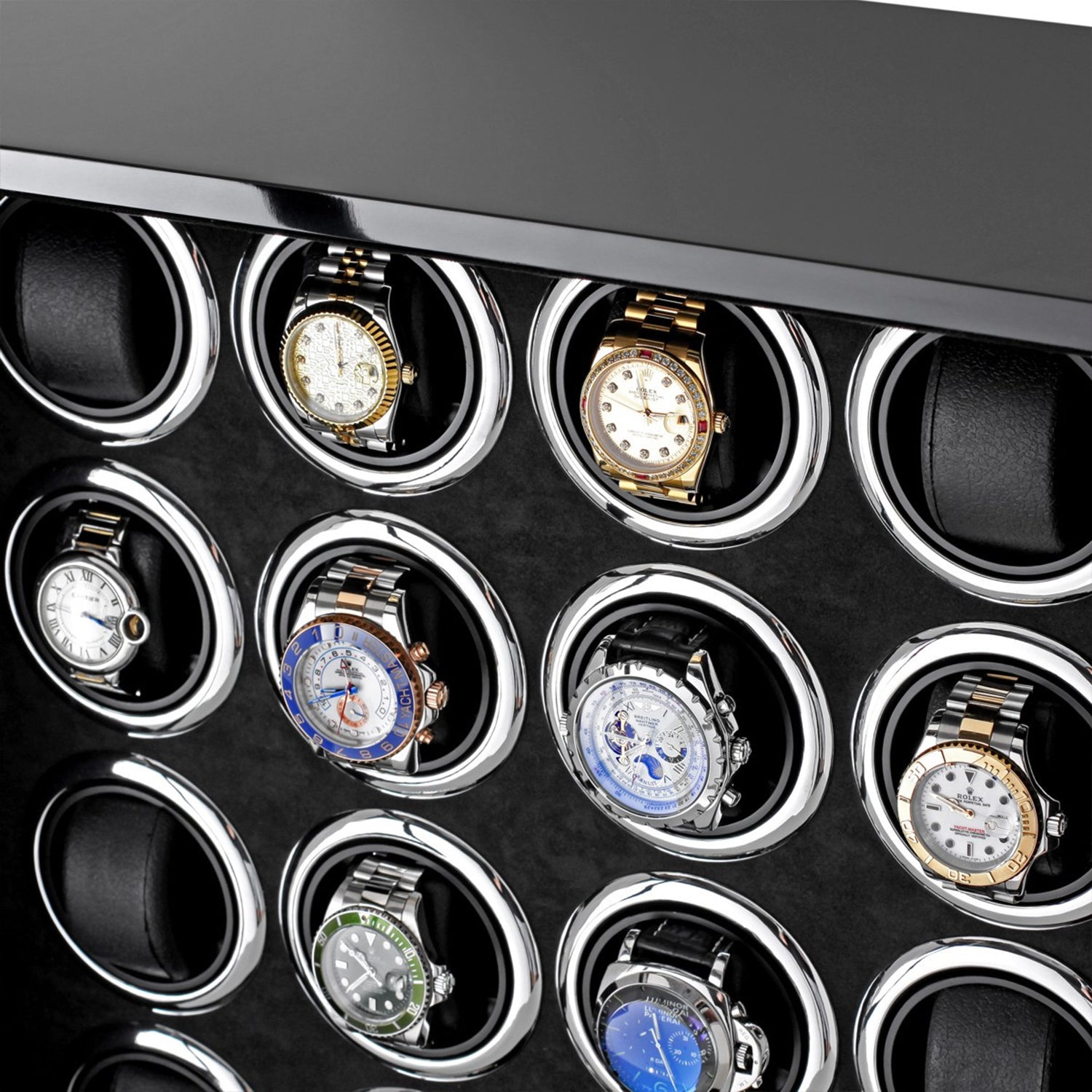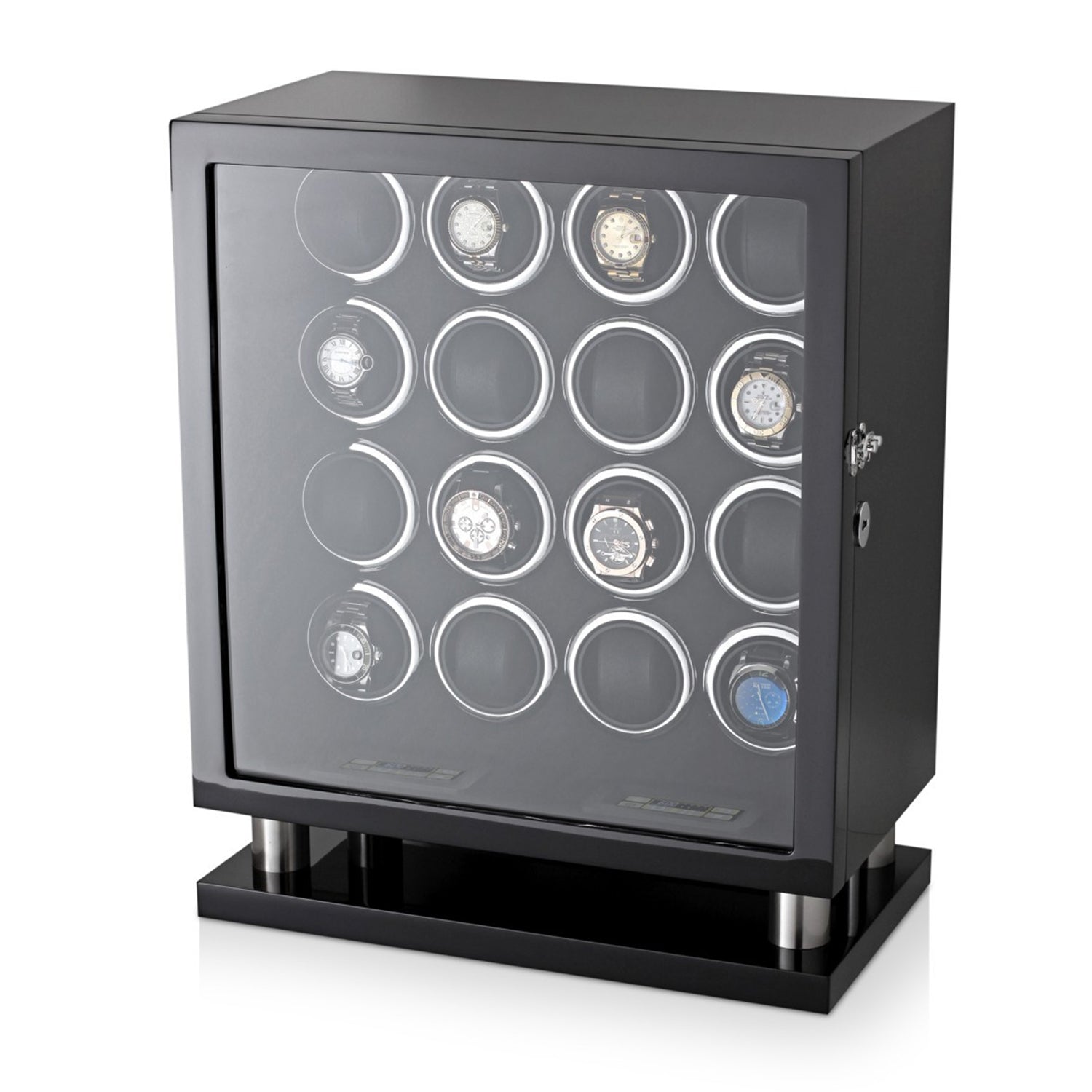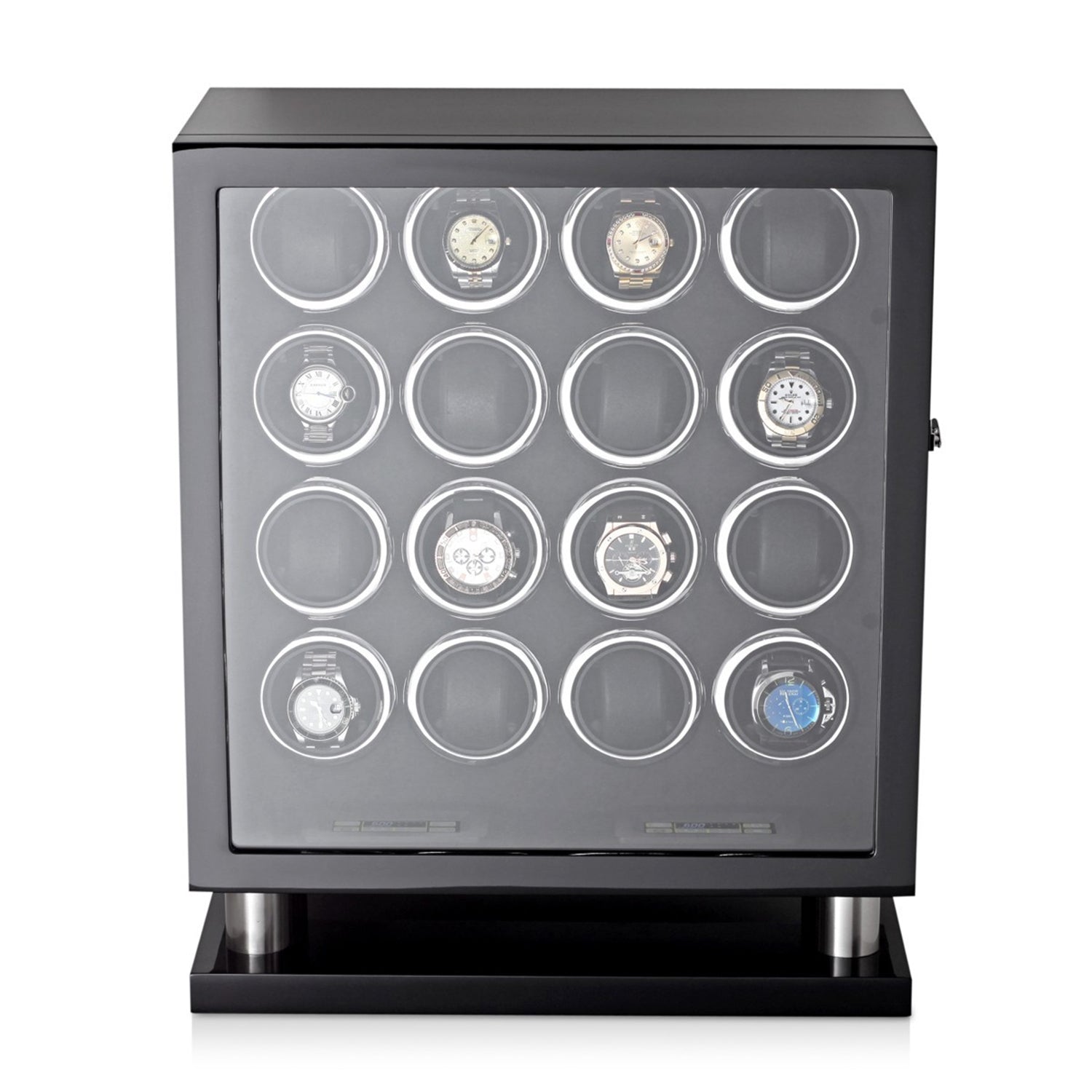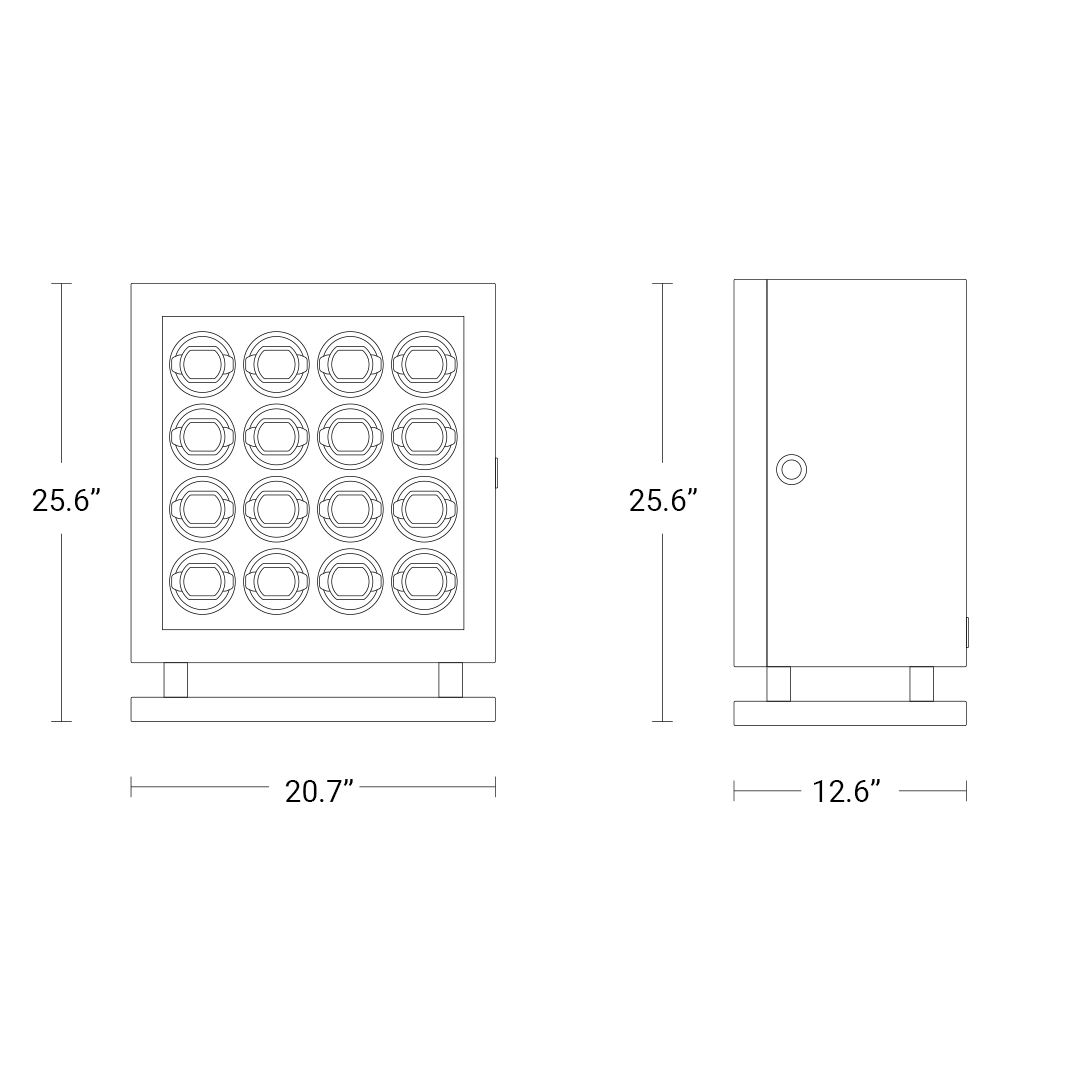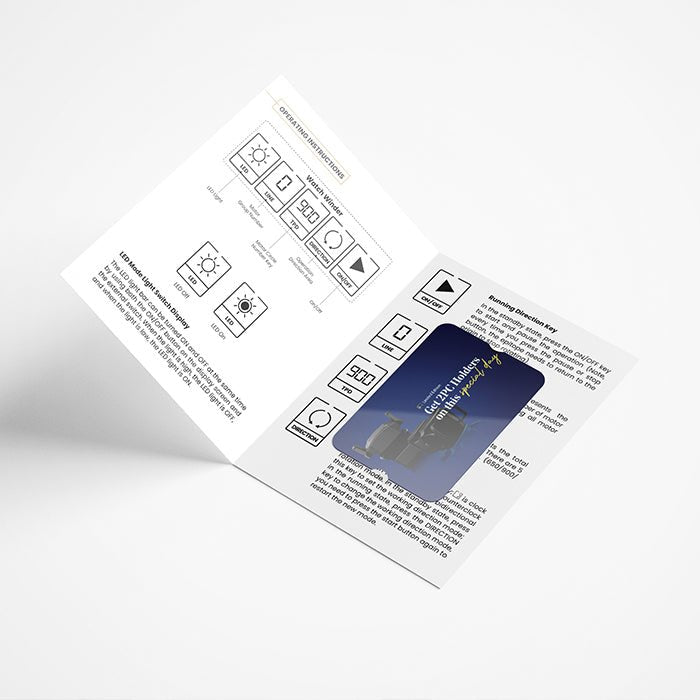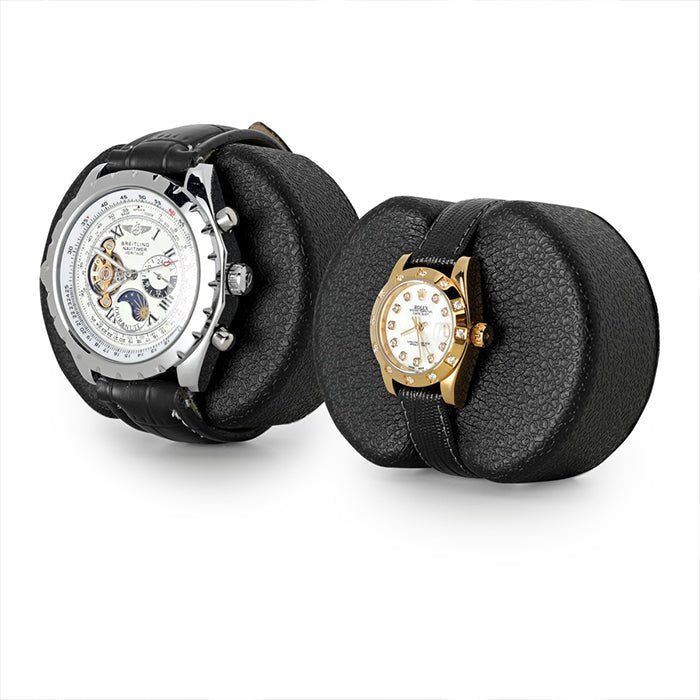 Personalized Rare Key
360° Anti Magnetization
10dB Ultra-Quiet
Macassar Wood Finish
YACHTLINE™ Series 16
This beautiful watch winder is a gem of craftsmanship and design. It lets you set the best direction and number of turns daily for each of your valuable timepieces. With its highest level of protection, ultra-quiet operation, various storage spaces, and stylish design.  
Perfect Presentation - 

This winder takes care of each of your watches in the best way possible. Its LED touchscreen interior lighting and custom watch dial. The piano-baking lacquer look, the clear glass window from abroad, and the soft, flexible pillows make for an elegant atmosphere.

Exquisite Design - Luxurious velvet and silk fabric and the installation of high-grade hardware,

premium wood

, and a laser-coated locked design show how well-made it is. The outside has a shiny lacquer finish and gold hardware, giving any setting a classy touch.

Advanced Security and Control - Equipped with smart remote control and multiple locking mechanisms, this watch winder provides robust security while remaining user-friendly. A personalized watch key adds an extra layer of security to your collection. Its 16 programmable rotors, 5-year guarantee, and non-magnetic control ensure peace of mind and easy customization.
Universal Compatibility - Motor-stop and coordinated rotor-stop positions protect clocks.

Electronic rotation

counter and soft 90-degree vertical position for simple access. Three rotation directions for practical watch winding. The easy button controls everything.

Dynamic & Capable - Yachtline 16 Watch Winder delivers meticulous winding across 16 individually programmable rotors powered by the silent 10dB Mabuchi™ motor. It efficiently handles diverse watch needs with a universal AC charger, 5V AC adapter compatibility, and a 600-2100 Turns Per Day (TPD) range.
Yachtline 16 Watch Winder is more than a safe box — it is a testament to the exquisite blend of technology and elegance. With meticulous craftsmanship and unrivaled design, it becomes an emotional centerpiece, cherishing and safeguarding your treasured timepieces while evoking a profound sense of pride and awe.
Returns & Refund Within 30 Days of Delivery
Include 1 Year Manufacturer's Warranty
360° Product Test & Quality Inspection
Shipment Protected by InsureShield™
Need Help?
Available 7 Days A Week
Our Customer Care Team are here for you.
Email us
or Chat Us
Live chat
The interior of the Yachtline Series is lined with soft, black leather for a really luxurious feel.
Features:
18 winding programs with individually controlled rotors
Three rotation directions and rotor stop position adjustable
Range: 600 to 2100 TPD (turns per day)
Electronic rotation counter
Soft polyurethane watch pillow
LCD touchscreen control panel with LED Lights
Two security door lock options
Non-magnetic material
Universal AC adapter (100-240V, 50/60 Hz)
Japanese Mabuchi® Rotor Engine (10 dB)

Product Details:

Style: Modern designs
Maximum watch case diameter: 2.1 inches (55 mm)
Box Contents: 1 x watch winder included, 1 x (CHA/EK/UK/AU) adapter
Technical highlights
12 O'clock stop position, LED interior lighting, individual programmable rotors per watch, sleep phase
Rotation direction
Alternating, left, right
Rotations per day
Individual Programmable Rotor
Dimensions
W. 9" x L. 17" x H. 20.5"
General Cleaning Guidelines: Use dry soft cloth without any water or any cleaning substances. Avoid using abrasive cleaners on the polished steel or painted parts of the hardware. Painted metal surfaces should be cleaned with a soft cloth. Leather and velour can be wiped clean with a damp cloth while glass can be cleaned using a mild glass cleaning solution.
Automatic Watch Winder with Protection by Enigwatch®:
Product Warranty: 12-Months Manufacturer Warranty & Lifetime Customer Support
Engine Warranty: 10-Years