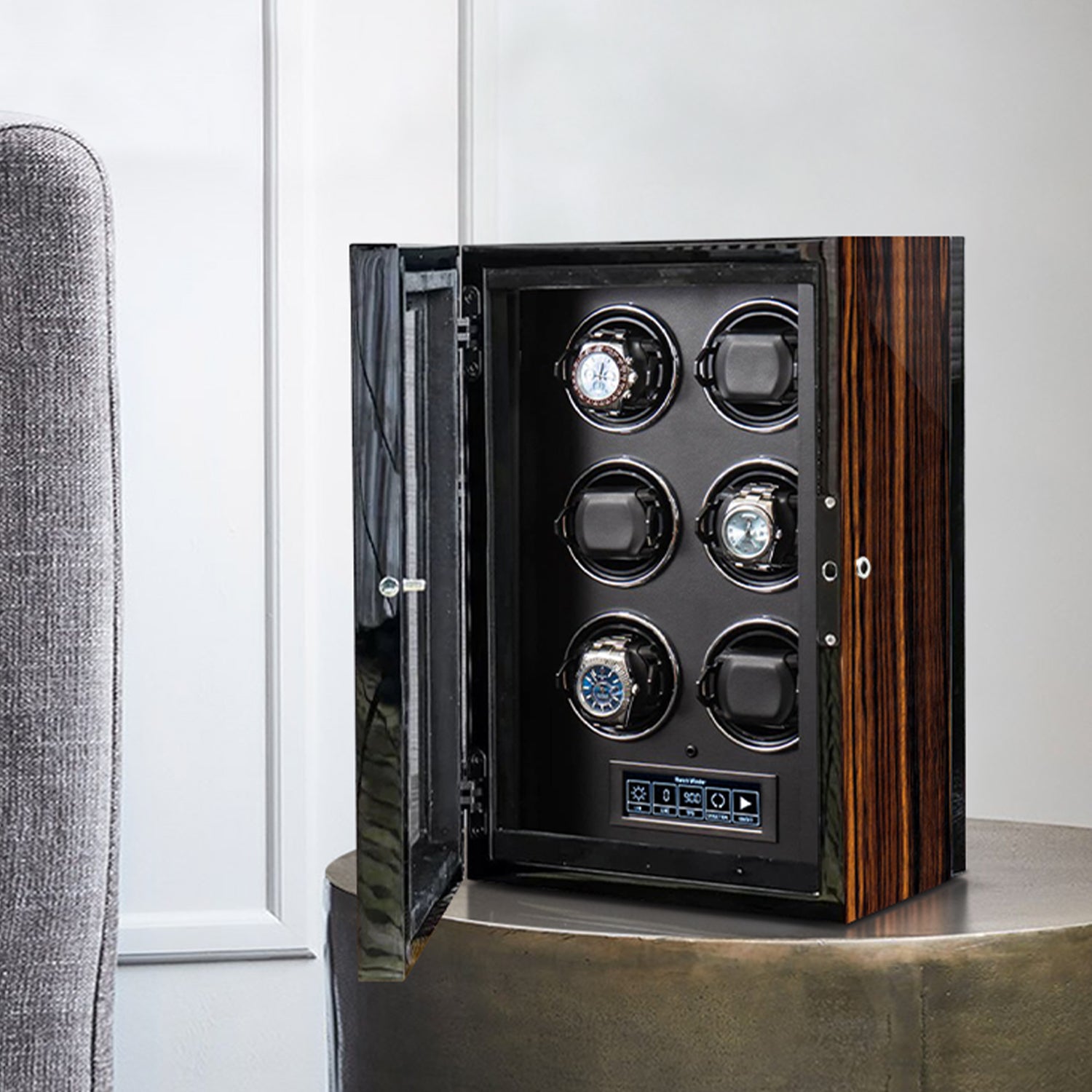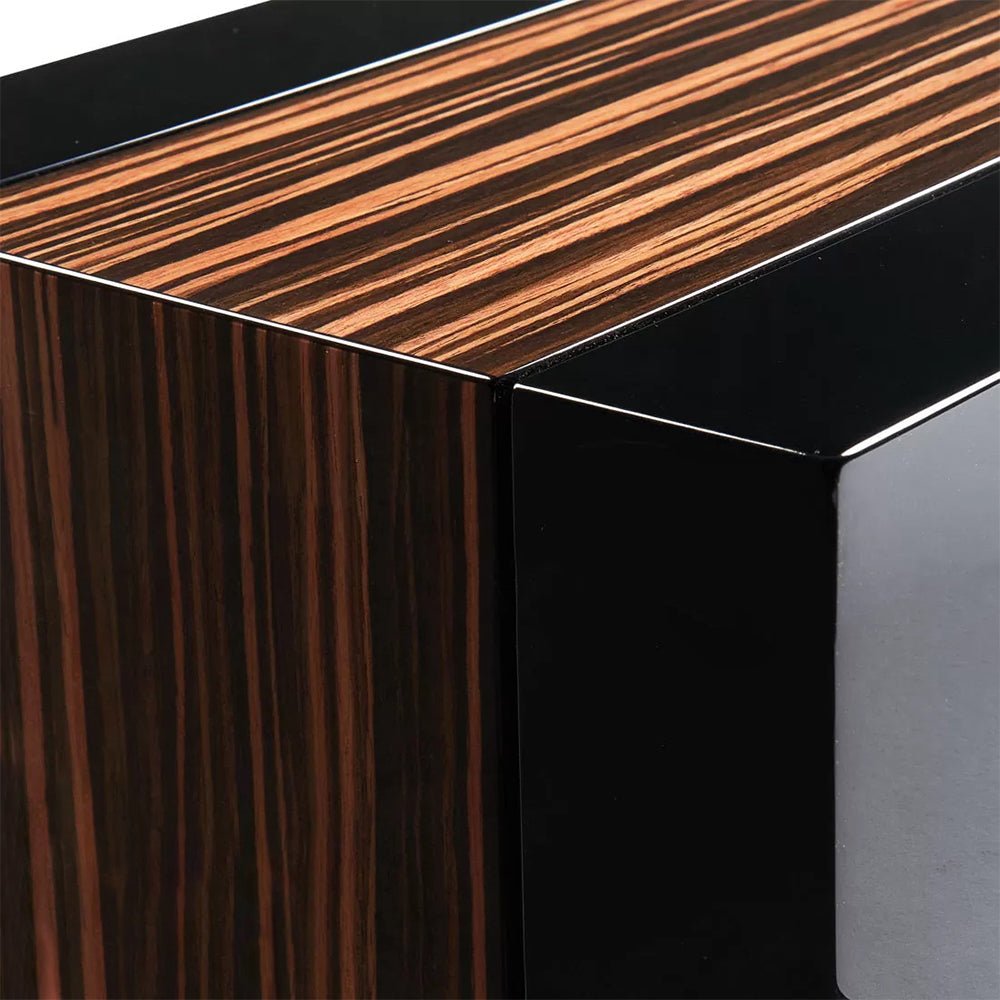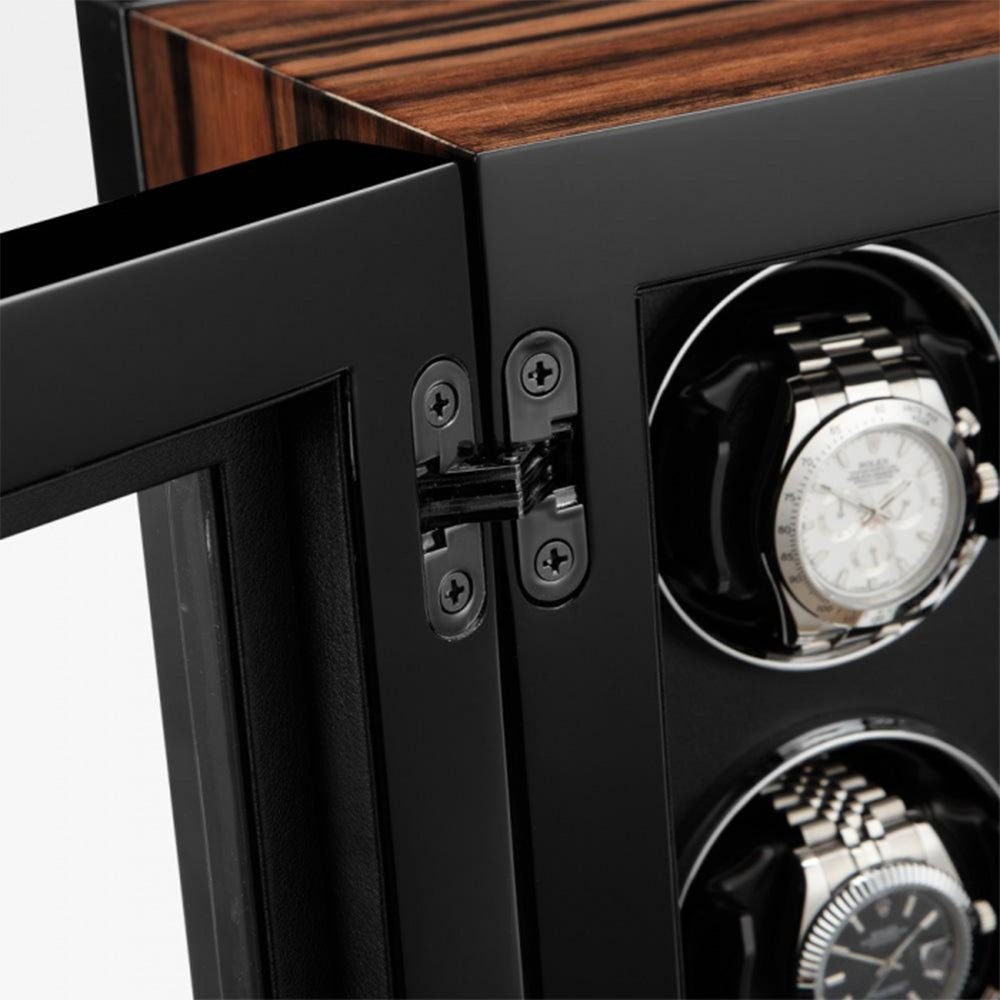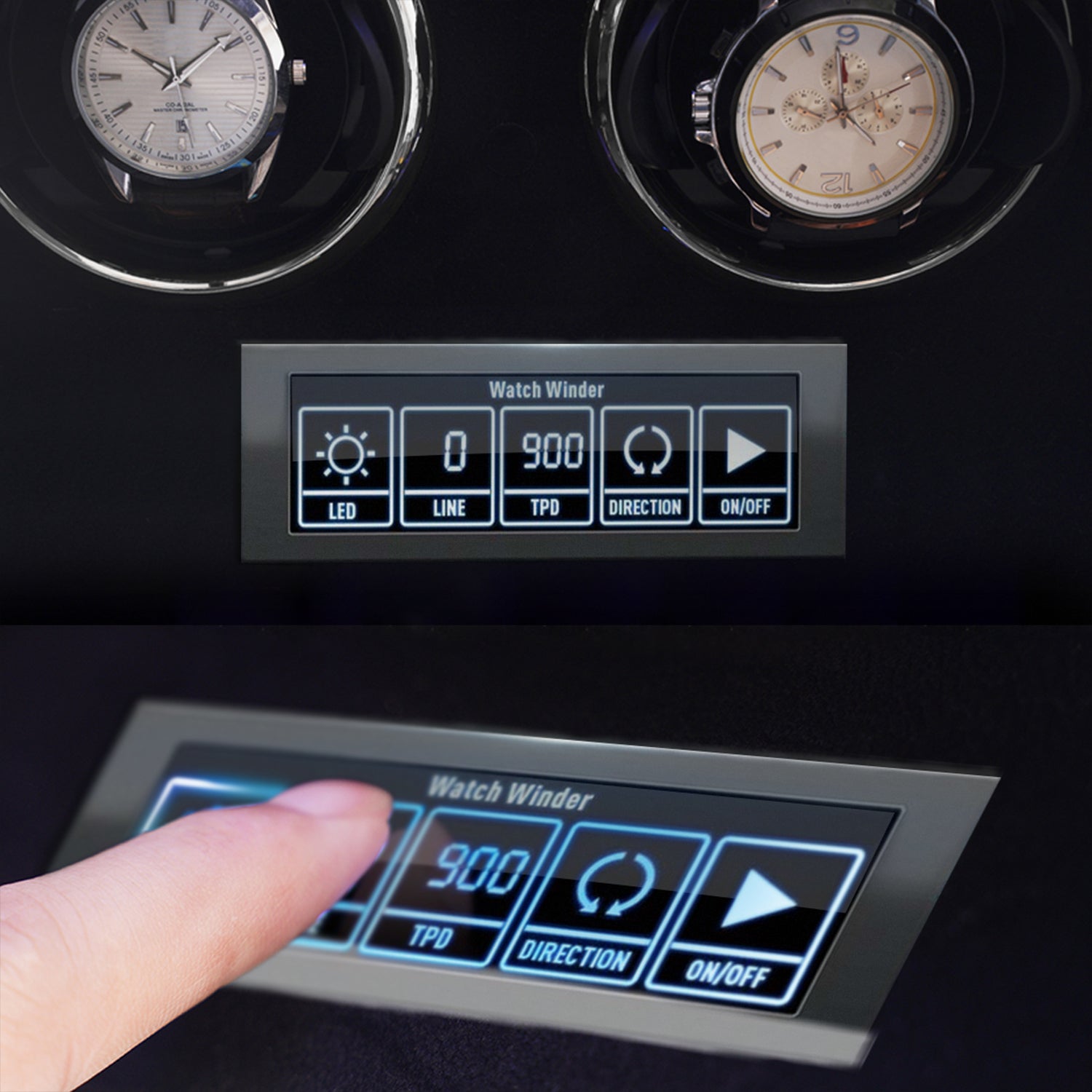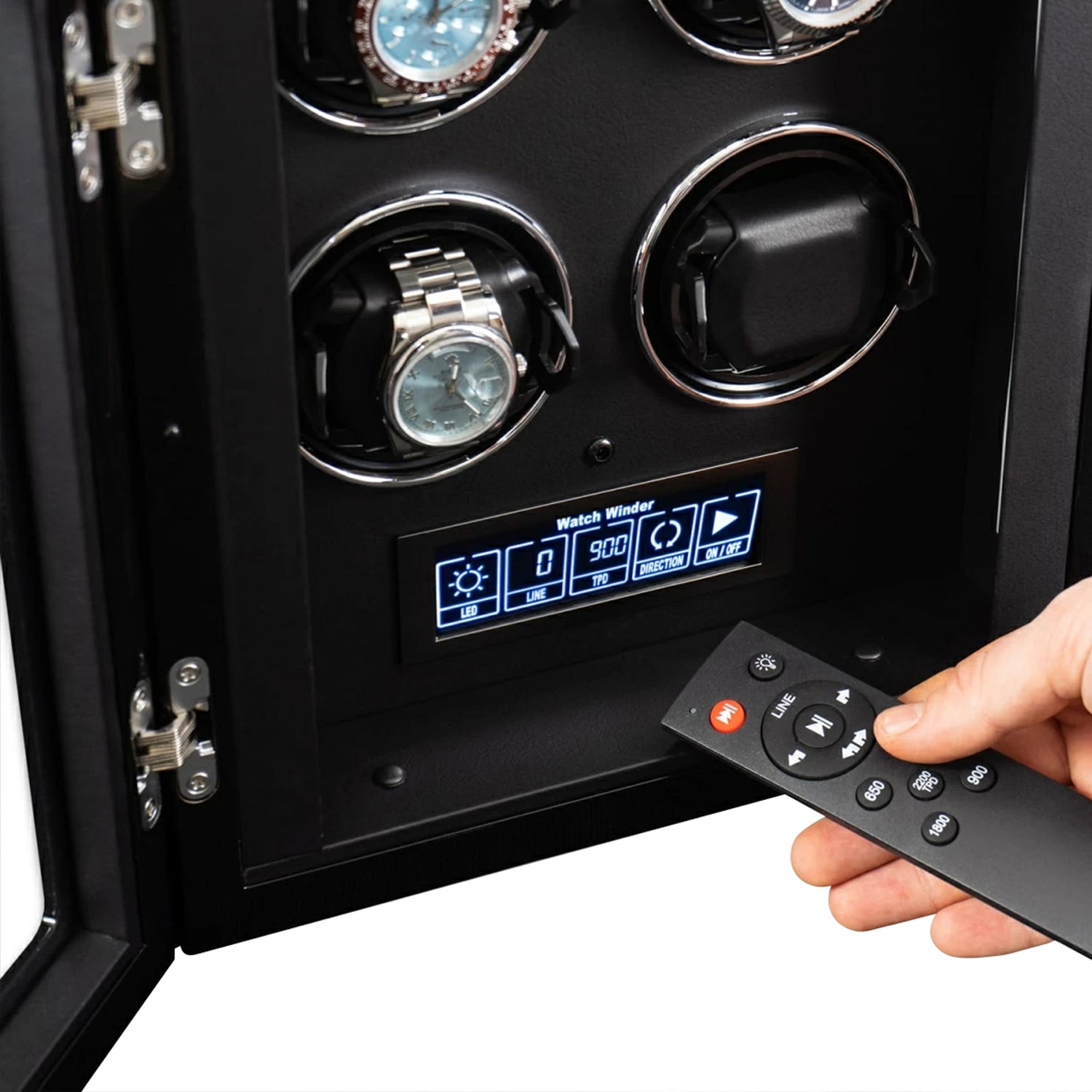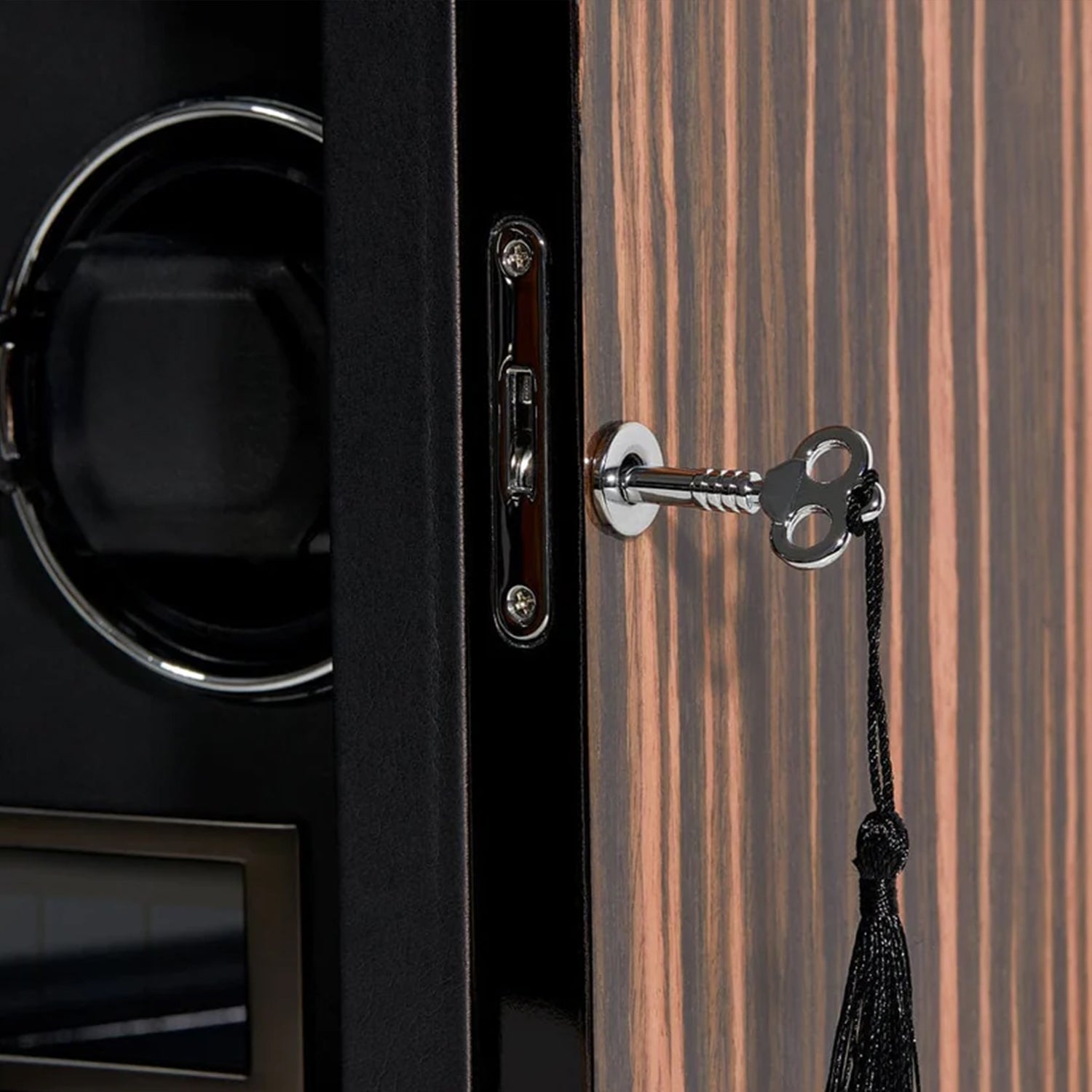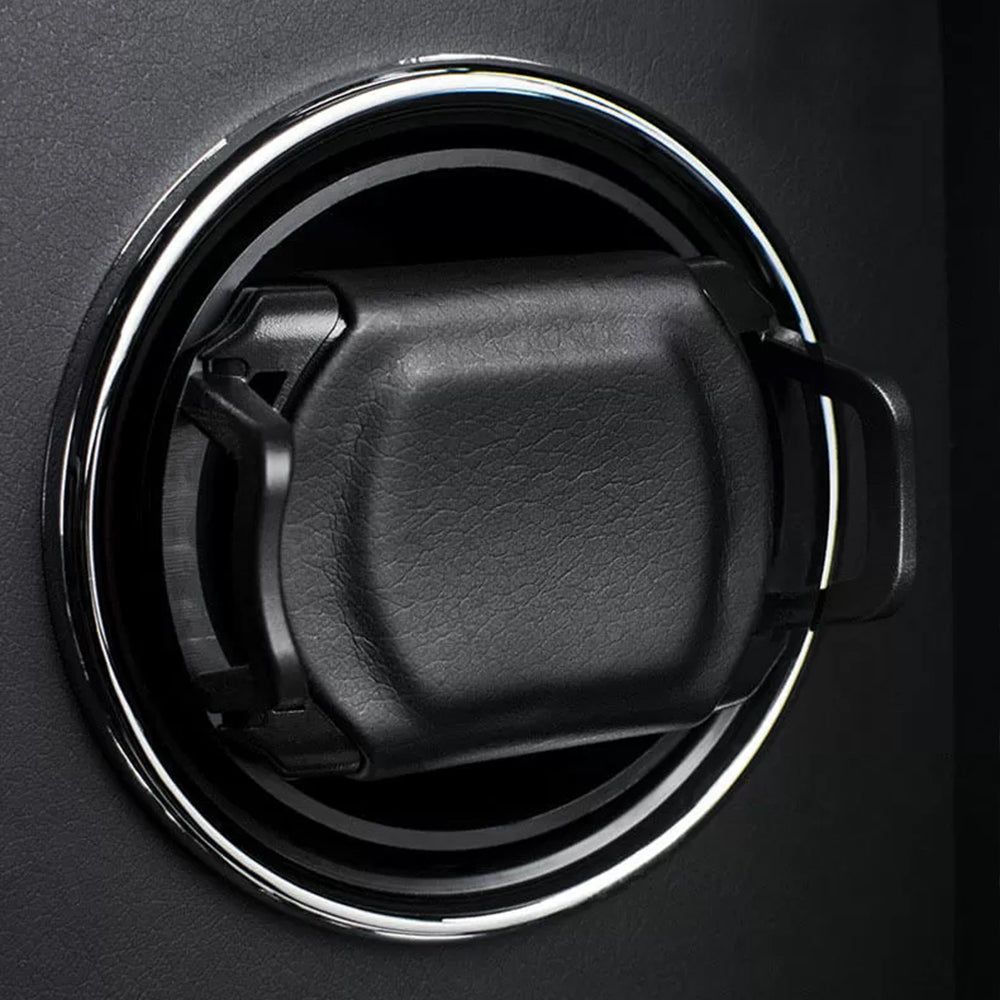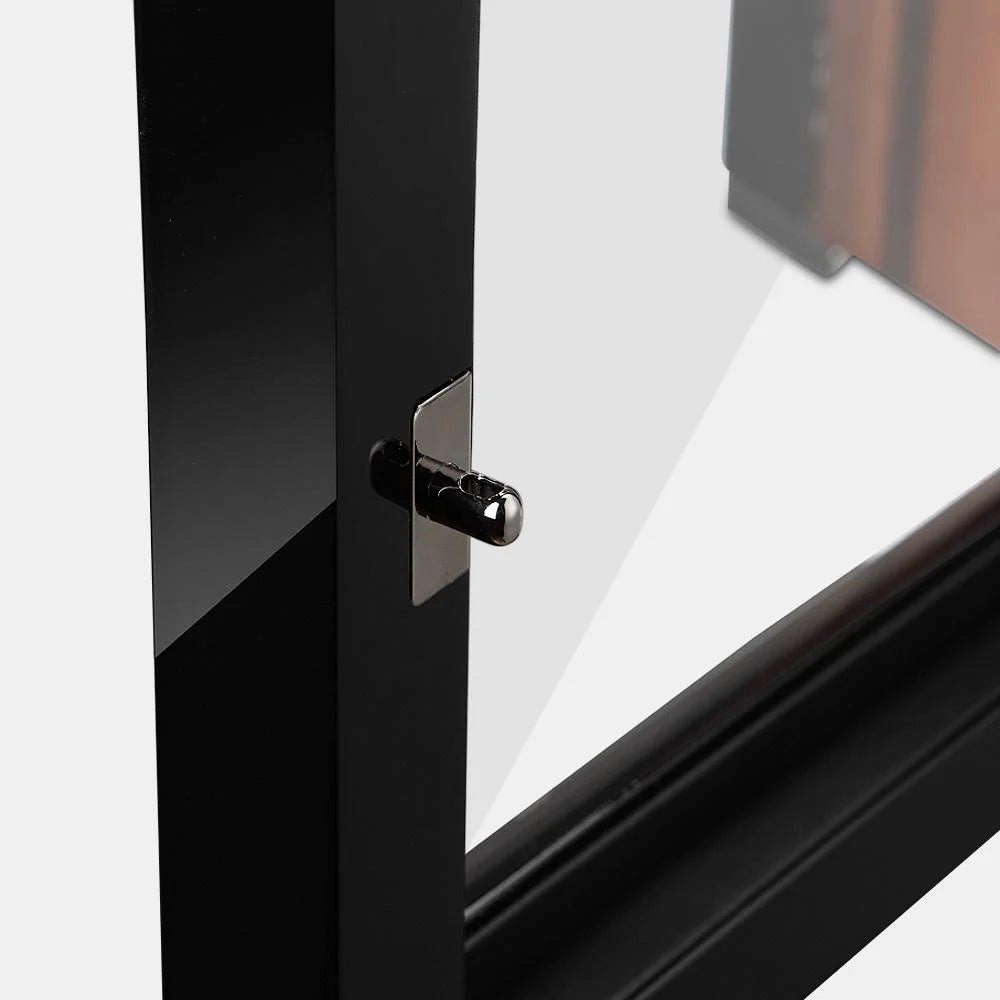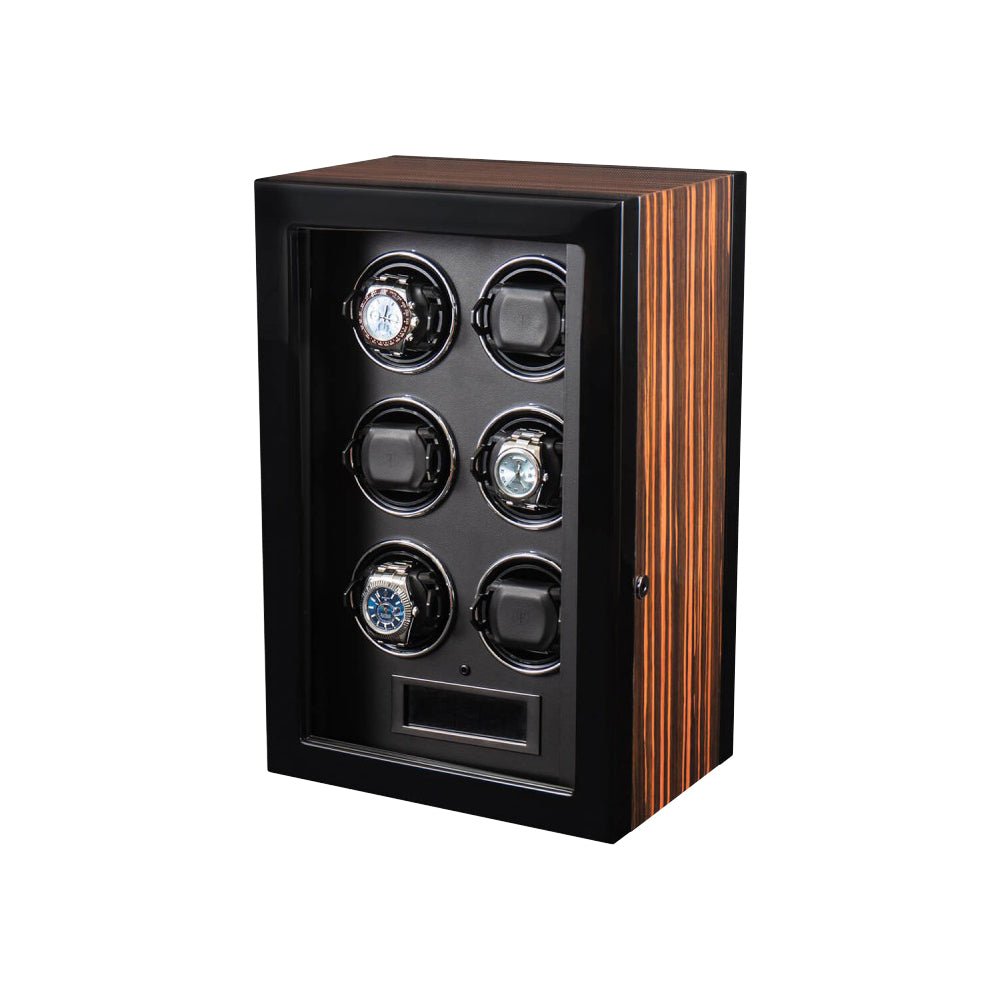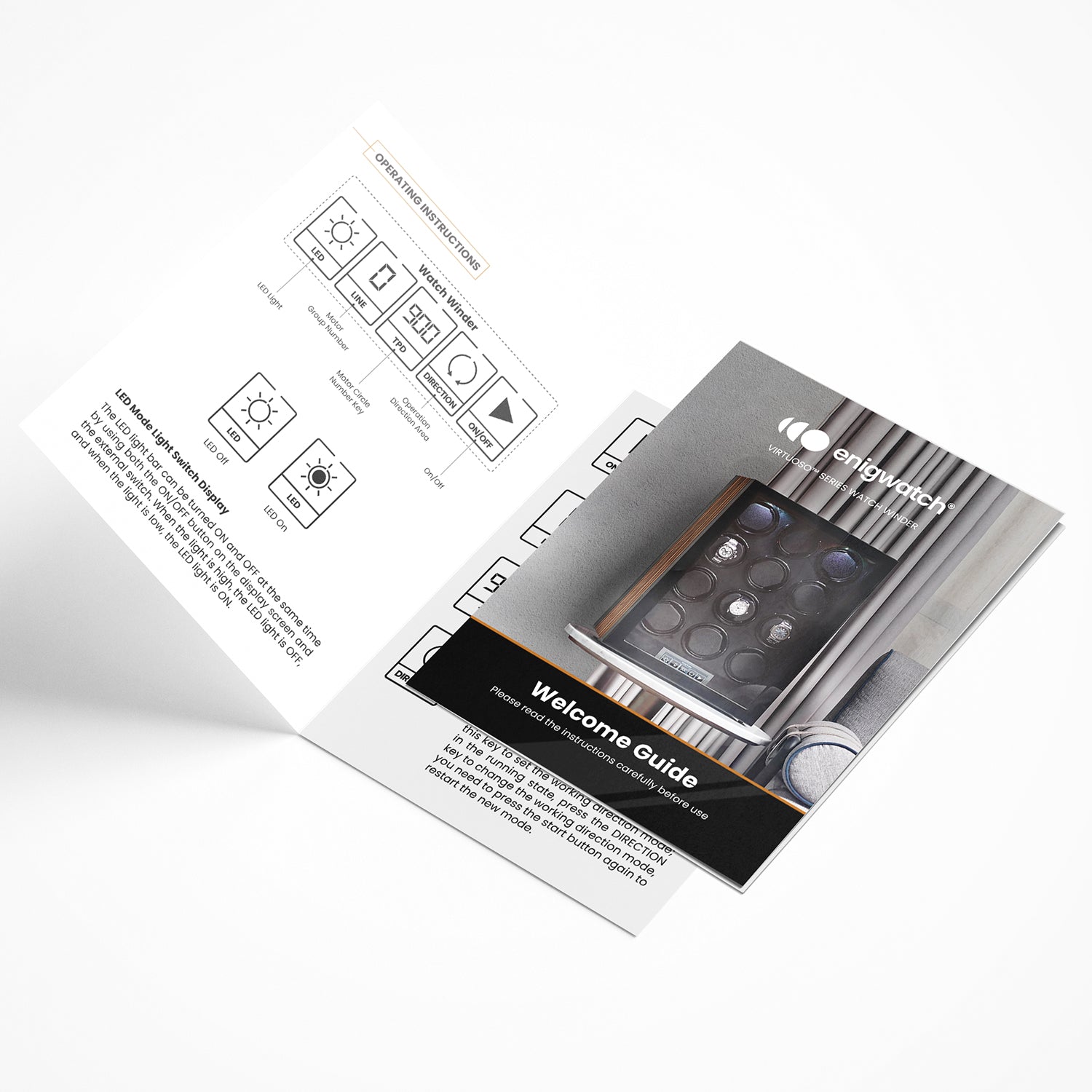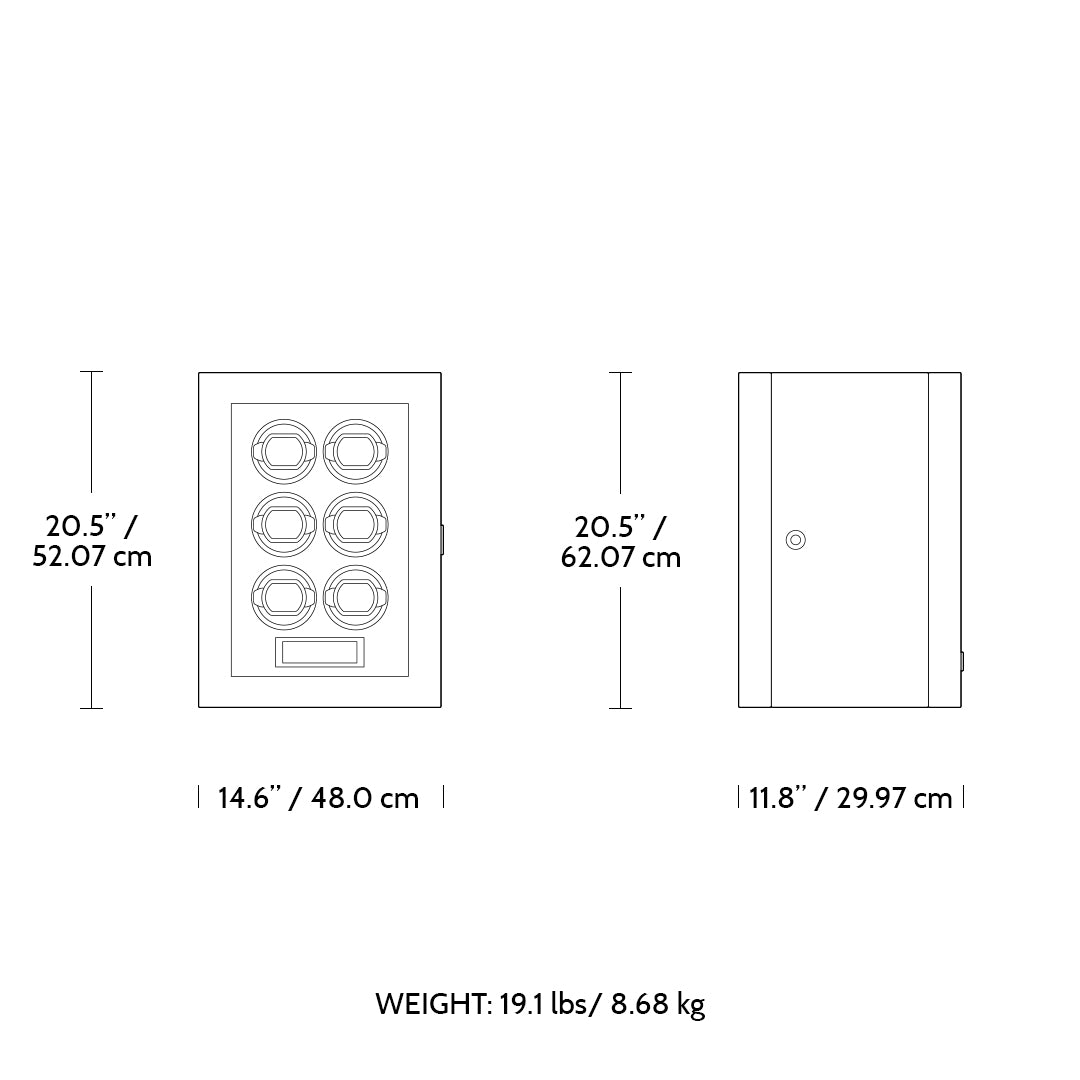 Personalized Rare Key
360° Anti Magnetization
10dB Ultra-Quiet
Macassar Wood Finish
VIRTUOSO™ Series 6
Introducing the Virtuoso™ 6 Watch Winder box - where passion meets technology, and craftsmanship embraces the cutting edge. Meticulously designed and hand-crafted with unwavering precision, this watch winder is a masterpiece that will leave you in awe.
Sturdy Meets Elegance - Witness as your watches bask in the glory of the Noble Ebony Macassar Wood Grain, nestled within the embrace of Premium Microfiber Leather. It not only safeguards your watches but also elevates them to regal status.
Soundless Japanese Mabuchi® Technology - Harnessing the silent prowess of Japanese Mabuchi® rotor technology, the Virtuoso™ 6 Watch Winder box treats your watches to a whisper-quiet performance, boasting a mere 10dB rotation.
Integrated Touch Screen Control - Tailor the brightness and rotations to meet your watches' every demand. It allows you to effortlessly program the perfect number of turns daily, ranging from 395 to 1950 TPD (Turns Per Day).
Exclusive Key Lock - 

Protecting your investment is our priority. The Virtuoso™ 6 Watch Winder box is fortified with a state-of-the-art exclusive and rare key lock system, ensuring unrivaled security and peace of mind.

Support 99% Automatic Watches -

From vintage classics to modern marvels, the Virtuoso 6 Watch Winder box welcomes a diverse range of automatic watches with open arms. Definitely a haven for automatic watches.
Picture the joy that fills your heart as you witness your beloved timepieces basking in the perfection of their dedicated home. It's a symphony of precision and care, tailored exclusively for your watch collection. (Every box comes with included smart remote control)
Returns & Refund Within 30 Days of Delivery
Include 1 Year Manufacturer's Warranty
360° Product Test & Quality Inspection
Shipment Protected by InsureShield™
Need Help?
Available 7 Days A Week
Our Customer Care Team are here for you.
Email us
or Chat Us
Live chat
The interior of the Virtuoso™ Series is lined with soft, black leather for a really luxurious feel.
Exterior Finish: Ebony Macassar wood veneer with high-gloss piano finish
Interior Finish: Genuine leather
Safety Lock: Exclusive Key
Interior Ambient Lights: Yes
Touch Screen Control: Yes
Engine Soundless Japanese Mabuchi® Rotors
Technical highlights
12 O'clock stop position, LED interior lighting, individual programmable rotors per watch, sleep phase
Inner compartment
Leather
Rotation direction
Alternating, left, right
Rotations per day
Individual Programmable Rotor
Dimensions
L. 14.6 x W. 11.8 x H. 20.5 inch
General Cleaning Guidelines: Use dry soft cloth without any water or any cleaning substances. Avoid using abrasive cleaners on the polished steel or painted parts of the hardware. Painted metal surfaces should be cleaned with a soft cloth. Leather and velour can be wiped clean with a damp cloth while glass can be cleaned using a mild glass cleaning solution.
We at Enigwatch® are pleased to offer an outstanding guarantee on all our products. We proudly stand by the quality and craftsmanship of all our products. We do not compromise on any procedures and we follow a strict protocol to ensure that the quality of our products is maintained.
Hence, to sustain our devotion to quality, Enigwatch® offers a 12-month warranty and 10 years of engine warranty from the date of delivery on all factory defects and furniture parts. Customer satisfaction is one of our key principles, and we will work diligently to resolve any issues that should arise.
*Defects/blemishes resulting from normal wear and tear, negligence, accidents, maltreatment or commercial use are not covered under the warranty. Please contact customer service should you have any inquiries regarding our Warranty Policy.

Offer valid for a limited time only. Offer limited to stock on hand; no rain checks are available and not applicable to prior or pending orders.
With the Virtuoso 6 Watch Winder box, your timepieces are more than just accessories – they become an integral part of an immersive experience. Its stunning design, precision winding, and unrivaled craftsmanship create an environment where your watches can be truly appreciated. Elevate your collection to new heights of elegance and sophistication with the Virtuoso 6 Watch Winder box.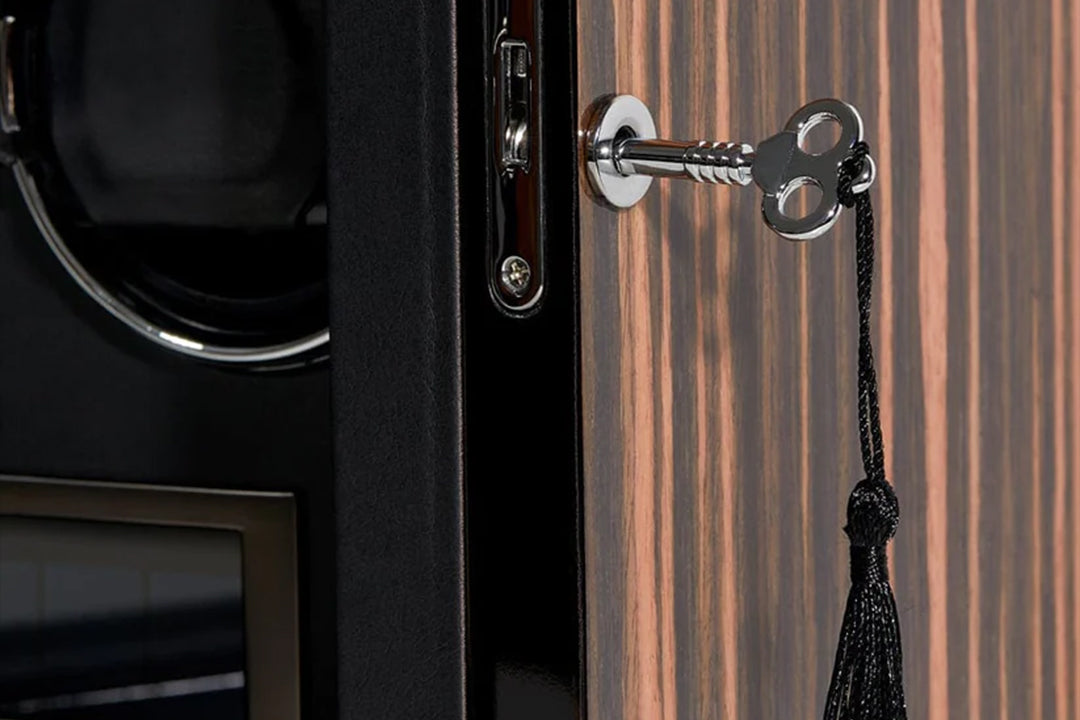 Personalized Security Key
Perfect item to showcase the watch collection and keep it safe. Equipped with an exclusive and rare key design that ensures the safety of your watches, created with premium quality stainless steel.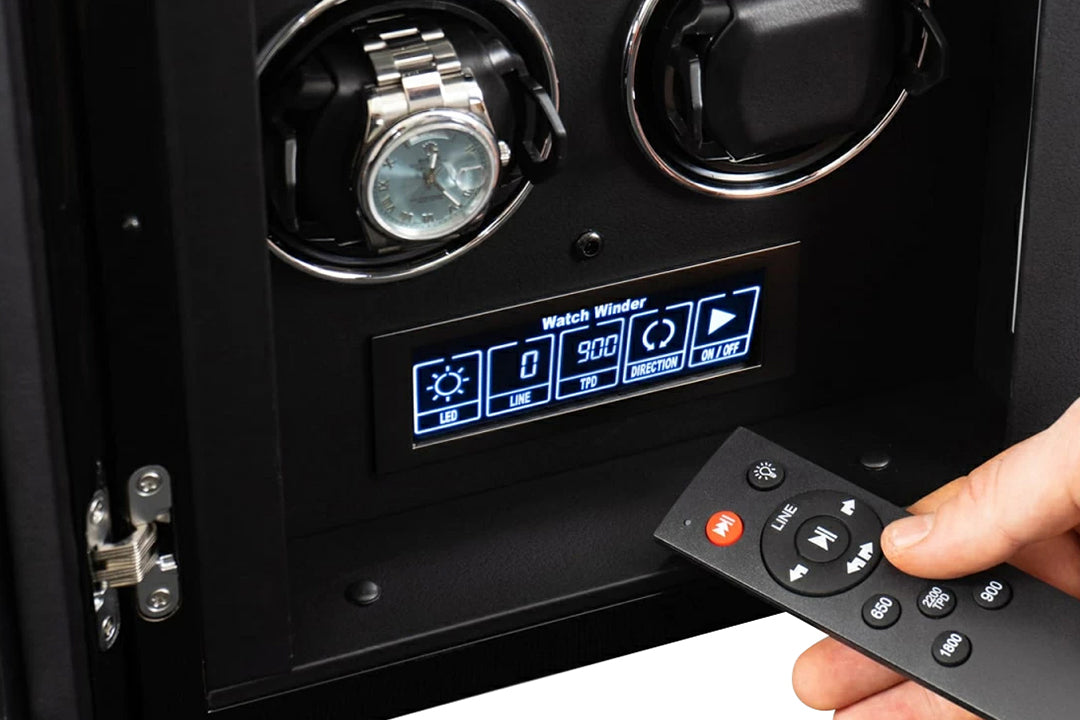 Soundless Mabuchi® Rotor
Made with a precision structure and high-grade rotors. The Virtuoso™ 6 Watch Winder box adopts a 10dB rotation of a Japanese Mabuchi® rotor, ensuring that it is ultra-quiet.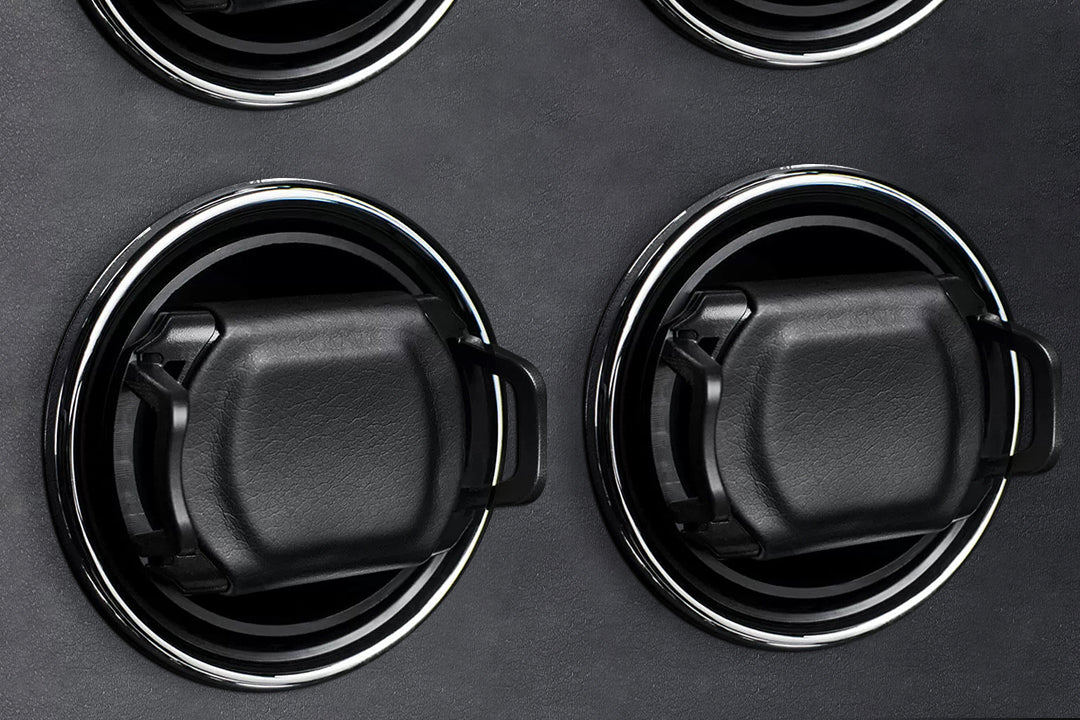 Telescopic Watch Pillow
This Virtuoso™ 6 Watch Winder can accommodate various watch strap sizes due to its adjustable fastener. It is crafted from superfiber leather and features a premium holder for locking your watch.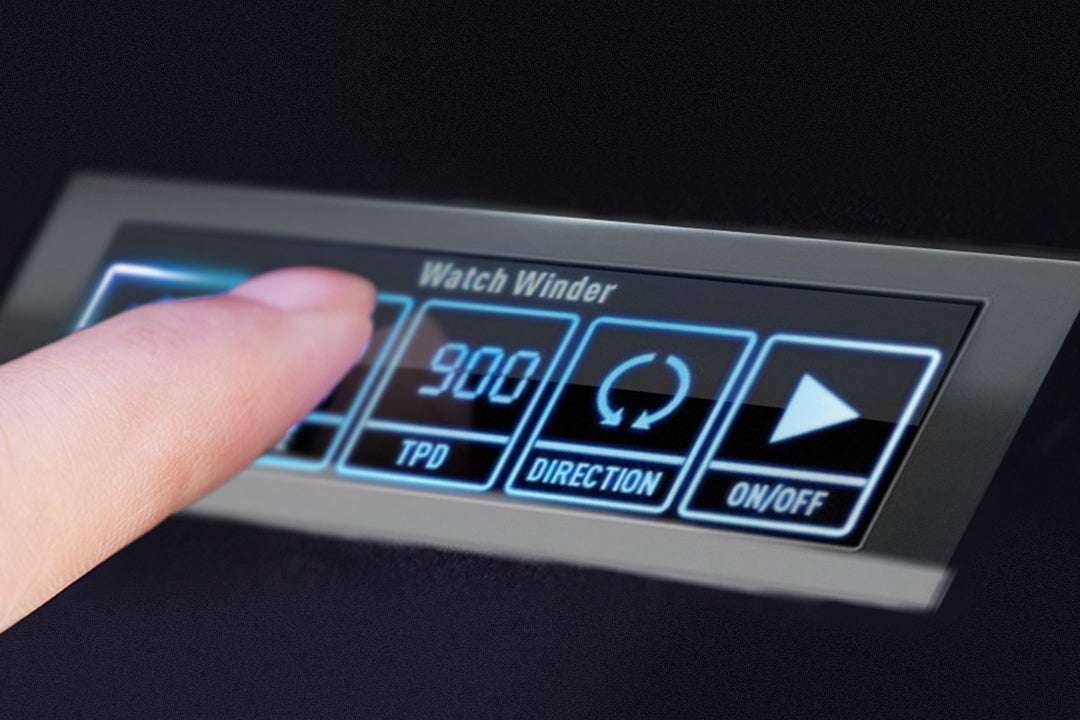 Touch Screen Control
Simple setup with touch screen control. The touch screen control allows you to set any number of turns daily, from 395 to 1950 TPD, in combination with any rotation direction.
Compare
Which Watch Winder suits best your needs?
Not sure which one to choose? We presented our finest watch winders here. Do compare them and choose the best version for your needs!
VIRTUOSO™
2PC

$545

View

VIRTUOSO™
6PC

$675

View

VIRTUOSO™
12PC

$1,245

View

Macassar Wood
Macassar Wood
Macassar Wood
Personalized Key
Personalized Key
Personalized Key
L. 13.7 x W. 11.8 x H. 12.5 inch
L. 14.5 x W. 11.8 x H. 20.4 inch
L. 18.8 x W. 12.5 x H. 25.5 inch
5.35 kg/11.7 lbs
8.68 kg/19.1 lbs
13.6 kg/29.9 lbs
Have a question? We are here to help.
Our customer support is available 24/7 to answer your inquiries.
Average answer time: 2m
We begin preparing your confirmed order immediately on the same day (Sat-Sun Included). Order is typically sent to the carrier on the same day at the fastest, and you will receive a shipping confirmation by email or SMS. This confirmation contains a tracking number for the shipment status.
Order for the contiguous USA is delivered by Premium FedEx® with 2-5 business days shipping, For USA, Europe countries and Middle East countries by DHL/GLS with 2-5 business days shipping. Please refer to the checkout page for all other regions.
Yes, shipments are protected by InsureShield™ and fully trackable, a tracking link is provided to you in your shipping confirmation. Any lost, damaged, or delayed shipments are covered in full. If you haven't received your goods within 7 business days, feel free to use Track My Order-service
We offer free premium shipping within the contiguous United States, UAE, and certain EU countries. Additional shipping costs for certain locations may apply. Please refer to the checkout page to see the total shipping cost.
Yes, Enigwatch is an official partner of pay-later services financing via Affirm, Klarna, and AfterPay Explore Financing options
Yes, every purchase includes a complimentary 1-year manufacturer warranty by Enigwatch. We also partnered with Clyde™ to offer extended warranty options for up to 5 years. This warranty can be purchased even after up to 30 days of receiving and trying the product in your home.
Total 5 star reviews: 123
Total 4 star reviews: 5
Total 3 star reviews: 2
Total 2 star reviews: 0
Total 1 star reviews: 1
98%
would recommend this product
Customer-uploaded media carousel. Press left and right arrows to navigate. Press space or enter to open more details.
Slide 1 selected
Marloone

Verified Buyer

1 week ago

5 Stars

I had great hopes when I bought this watch winder expressly for my Rolex Submariner. The product had some outstanding qualities, but it also had a few minor flaws that were noteworthy.

First and foremost, we were very grateful for the timely delivery and safe packaging. The watch winder made a prompt and flawless arrival, guaranteeing the product's safety throughout transportation.

The watch winder is a work of art and deserves praise for its fine craftsmanship and well-executed design. It is easy to see the quality of work and attention to detail, which creates a satisfying visual experience. The watch winder has enough room for many watches because it comes with six pillows. For collectors of watches who are watch aficionados, this adaptability is advantageous.

The nearly silent motor, which provides an almost noiseless operation, is one noteworthy feature. The absence of auditory disruption ensures a calm setting, which is a big advantage. It is crucial to keep in mind that everyone's preferences are different and that everyone responds to noise in a different way.

The watch winder has an attractive aesthetic touch thanks to the blue light feature. However, it might be too bright for some people's tastes in sleep, especially if it's installed in a bedroom. Fortunately, there is a way to reduce this problem by turning off the blue light.

Benjamin

Verified Buyer

1 month ago

5 Stars

I am impressed with the overall experience I've had so far. After receiving it a week ago, here are my thoughts: The exterior of the winder is exquisitely crafted with soft leather-like vinyl coverage, and the viewing glass window is made of thick glass. These premium features give the winder a sophisticated look, making it an excellent addition for any watch collector....

The smart design of the upsloping winding platform not only enhances the display but also allows the watches to sit efficiently for winding. It's a thoughtful touch that adds to the overall functionality. One of the standout features for me is the motor's quiet operation while winding. There's hardly any noise, ensuring a smooth and peaceful winding process. I will keep observing this over the long term, but so far, it's been impressive.

The watch pillows fit my watches snugly, ensuring they sit securely in the rotating slots with no movement. Initially, I was concerned about the distance between the watches being too close, but I'm relieved to find that it's perfectly fine. Each watch has its space and is comfortably accommodated. And the Las... the packaging was well-designed to protect the winding box during transportation. It arrived in pristine condition, and I appreciate the care taken in ensuring its safe delivery. GOOD JOB!!!

Christine

Verified Buyer

1 month ago

5 Stars

I am updating my original review. When I first received the watch winder, the winding mechanism was broken. They asked me to fix it thinking it would be an easy fix. When we found out that it was not an easy fix and the whole thing had to be disassembled. They sent me a new watch winder. Everyone was very responsive and timely in replying to emails and phone calls. The new player came and I sent the old player back. The shipping cost was a little more than the $80 I took out of my pocket and within 7 business days they refunded the money to me. EASY, FAST AND FREE RETURN PROCESS!!! I am very happy with this winder and the customer service that comes with it. The carbon box looks very nice and the movement inside is very quiet. One thing I would probably change is the LED light inside the box. When lit it makes the watch look very attractive and eye-catching, however there is only one light at the top so the light doesn't filter through all the watches and gives the same lighting to the row of watches at the bottom. I think the upgrade should be some kind of lighting on the top and bottom, or even from the sides. Other than that, if I ever need another box. I would definitely buy from the company again.

Five stars from me!

Bean. L.

Verified Buyer

2 months ago

5 Stars

Over the past decade, I've been fortunate enough to amass a collection of timepieces that I hold dear. From my Rolex Submariner to the Patek Philippe Nautilus, each has a story. Hmm... When the watch winder arrived, I was taken aback by its sheer elegance. It was delivered promptly within 5 days, and the packaging was impeccable. The customer service? Simply top-notch!!!!
Reviews Loaded
Reviews Added
Enigwatch in Instagram
EXPLORE WHY ENIGWATCH OWNERS LOVE THEIR GOODS #ENIGWATCHLIFE