Before wearing a TAG Heuer watch for the first time or if it stops working, it must be manually wound. Detach the crown entirely and turn it clockwise multiple times to manually wind a watch.
An average TAG Heuer watch requires 650 revolutions per day (TPD) to keep it wound up entirely for a whole day. This is the default setting for the majority of watch winders since the majority of current timepieces need a winding rate of about 750 TPD.
What should you do if you have several automatic TAG Heuer watches that need winding? Simply put, a TAG Heuer watch winder is necessary.
Since we provide informative and pertinent A to Z buying advice for new watch winders for TAG Heuer, the beginner watch collector should read this page. Find out more by reading on!
You might also like: Buying Guide: The Best Watch Winders for Rolex Datejust
The benefits of using watch winders for TAG Heuer
It goes without saying that a watch winder is so much needed by those who own the fancy TAG Heuer automatic watch. And here are some advantages of using watch winders for TAG Heuer:
Keep an eye out for your expensive watches. You may get ready for work without having to worry about whether or not your watch is wound since automatic timepieces are always on and current.

Although watches are often thought of as being maintenance-free, it is ideal to prevent gear wear if you want your wristwatch to function for extended periods of time without requiring attention or repairs. Even with frequent maintenance, this may still need some effort beyond just clearing out dirt build-up around town. To enhance durability and avoid damage from occurring on an annual basis, we suggest getting your watch serviced every three years at most.

Costs less. Maintaining your TAG Heuer watches wound in a

watch box

can save you money on repairs and help you save money on new watches if the parts become obsolete. Even so, there's no doubt that buying the winder is a good idea.
How to set watch winders for TAG Heuer?
The specifics of how a watch winder should be set up depending on the watch itself. Many additional high-end self-winding watches, including all TAG Heuer watches, may be wound both clockwise and counterclockwise.
Before adjusting the winding settings, it's important to understand the kind of movement within your watch since certain watches, like those made by Breitling and Jaeger-LeCoultre, can only be winded in one way.
Your watch determines how many rotations you make each day. While some automatic timepieces only need 600 TPD, some need over 800 TPD. A set of around 650 TPD with bidirectional motion is advantageous for TAG Heuer watches. Fortunately, the majority of watch winders nowadays include this option, so you don't need a very advanced winder to correctly set it up for your TAG Heuer.
You might also like: 3 Best Watch Winder for Panerai to Wind Your Timepieces Perfectly
How to choose the best watch winders for TAG Heuer?
It's crucial to choose the best winder since it will store and upkeep your timepiece. On top of that, it will help you save money because you will not need to spend some money on servicing your watches. Here are some things to consider before buying one:
1. Find the suitable TPD (Turn Per Day)
The average number of turns per day (TPD) required to keep a TAG Heuer watch fully wound for 24 hours is 650. Since most current watches need to be wound at a rate of around 750 TPD, this is the default setting for most watch winders.
2. Programmability
Some watches can only be wound in a certain direction (clockwise or counter-clockwise, or bi-directionally). The most effective approach to preserve the integrity of your watch is with a programmed watch winder.
Additionally, the TDP (turns per day) required to keep a certain watch wound varies greatly. If you use a cheap watch winder that does not allow you to control the TPD, certain watches may not be winded enough to continue beating while others may continually engage the sliding bridle (a device incorporated in the majority of modern automated watches to ensure they cannot be overwound).
The bridle will be subjected to increased wear as a result. Without ever utilizing the power reserve or the sliding bridle, a watch winder that is configured properly will keep your watch ticking.
3. Materials
Look through the design and quality of the watch winder you are thinking about buying. Cheap watch winders often use plastic and wood veneers of inferior quality. Low-quality pleather may also ultimately lose its shape or peel, either inside or externally. Another warning sign that it could not be high-quality or magnetically insulated is the use of these materials outside of a motor.
4. Power source
A watch winder's power supply often comes with a power adaptor. However, if you want to keep it in a secure or enclosed space without easy access to an electrical outlet, you may want to think about a lithium-ion or battery-powered watch winder.
5. Noise
One of the first things you'll notice about your watch winder is the noise it produces. Many low-cost watch winders feature noisy motors and insufficient sound insulation, which may be irritating. You may pick one with a silent motor system for more comfort while sleeping.
Recommendation of the best watch winders for TAG Heuer
As we delve deeper into the world of luxury watches, especially TAG Heuer, the importance of maintaining these timepieces cannot be overstated. Automatic and quartz watches, with their intricate mechanisms, deserve the utmost care to ensure their longevity and precision.
A watch winder plays a pivotal role in this, especially for collectors who own multiple automatic watches. Let's explore some of the best watch winders that are not only functional but also complement the elegance of your TAG Heuer collection.
 Starting off our recommendation on the best watch winders for TAG Heuer, we have a piece by Enigwatch, namely Virtuoso™ 2PC Watch Winder. 
This high-end collection of watch winders uses only the highest-quality materials and is painstakingly hand-made. Fans of wristwatches with traditional mechanisms may have more than one due to the wide availability of fascinating accessories. These items are stored in a secure location or on display. 
This watch winder provides the best possible care for your timepiece, functions at the highest possible technological level, and is a beautiful accessory in its own right. The Virtuoso Watch Winder is a work of art made from the finest materials and finished with a plush black inside that screams elegance and sophistication.
You might also like: Tag Heuer vs Tissot: The Battle of the Swiss Titans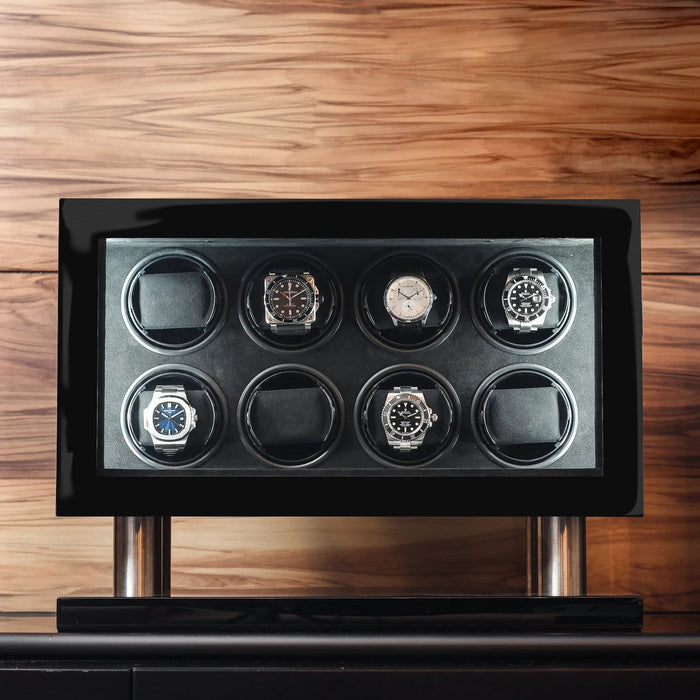 This beautiful watch winder is a gem of craftsmanship and design. It lets you set the best direction and number of turns daily for each of your valuable timepieces. With its highest level of protection, ultra-quiet operation, various storage spaces, and stylish design.  
This watch winder provides optimal care for your watches with features like an LED touchscreen and a stylish piano lacquer finish. Its design is luxurious, combining velvet, silk, and premium wood with gold accents for an elevated look. The winder offers advanced security with smart remote access and multiple locking features. Additionally, it's powered by a silent Mabuchi™ motor and caters to various watch needs with adjustable settings, ensuring both style and functionality.
Impresario™ Series 6 Watch Winder stands out as one of the top recommendations for TAG Heuer collectors in 2023. This watch winder is not just a functional tool but a piece of art in itself.
Crafted with precision, it ensures that your TAG Heuer watches, be it automatic or quartz, receive the care they deserve. Its features are tailored to meet the requirements of TAG Heuer watches, ensuring that your investment remains in pristine condition.
With its elegant design and top-notch functionality, it's no wonder that the Impresario™ Series 6 is a favorite among watch aficionados. If you're looking to elevate your watch collection and ensure its longevity, this watch winder is a must-have. Don't miss out on this opportunity to enhance your watch collecting experience. Grab yours now!
If you want information on purchasing an automatic watch, you may check out our post because we compile all the buying guidelines for novices.
We appreciate you reading this article. We'll see you at the next one.