Timex Q Chronograph is an iconic timepiece that embodies a rich narrative of horological artistry. As we delve into the captivating universe of the Timex Q Chronograph, prepare to be enthralled by its unique blend of history, design, and functionality. This watch isn't just an accessory; it's a symbol of Timex's unwavering dedication to excellence and a beacon of timeless style in the ever-evolving world of watchmaking.
Related to: Be the Boss: The 6 Best Chronograph Watch for Successful Meetings
A Quick Stroll Down Memory Lane
The Timex Q Chronograph isn't just a watch; it's a piece of history on your wrist. Born from a legacy of watchmaking excellence, this timepiece is a nod to the past while embracing the future. Its journey from the drawing boards to the wrists of watch aficionados worldwide is nothing short of remarkable.
What Sets the Timex Q Chronograph Apart
In a world brimming with timepieces, the Timex Q Chronograph stands out. Why, you ask? It's the perfect marriage of retro charm and contemporary technology. With its distinctive design, reliable functionality, and an affordable price tag, it's a watch that offers more than just the time of day.
Why You Need a Timex Q Chronograph in Your Collection
So, why should the Timex Q Chronograph find a home on your wrist? It's simple. This watch isn't just about telling time; it's about telling a story. It's for the trendsetters, the style-conscious, and those who appreciate a watch with a tale to tell. Whether you're dressing up for a night out or keeping it casual, the Timex Q Chronograph is your faithful companion.
Review of the Timex Q Chronograph
Not convinced yet? Here's a full fledged review on the timepiece. The Timex Q Timex Chronograph, released in 2022, stands out as a testament to Timex's commitment to affordable, stylish timepieces. Amidst an era where the cost of watches is soaring, this model emerges as a beacon of value, blending 70s-inspired design with modern functionality.
Key Features
Size and Design: The watch features a 40mm-wide stainless steel case, larger than its 38mm counterpart, yet maintains a vintage and compact feel. Its angular case profile, brushed hooded lugs, and polished finish give it a bold, late-70s look.
Chronograph Complications: This model introduces chronograph functionality to the Q Timex line, with classic piston-style pushers and a polished black aluminum tachymeter bezel, capturing the essence of vintage racing chronographs.
Dial Design: The dial marks a departure from standard Q Timex models, drawing inspiration from 60s and 70s sports chronographs. It features split baton indices, polished baton hands, and a panda dial three-register layout. The subtle use of fauxtina lume and a warm silver hue on the subdials adds a touch of sophistication.
Movement: Powered by the Epson YM12a quartz chronograph movement, it offers a smooth 1/5-second interval for the central chronograph seconds hand, mimicking a mechanical feel. The movement promises a five-year battery life but does have some limitations typical of quartz movements at this price point.
Strap Options: The watch is available with either a leather strap or a stainless steel bracelet. The leather strap, co-signed by an American tannery in Red Wing, Minnesota, is particularly impressive, offering comfort and aesthetic appeal.
Pros and Cons
Pros: The Timex Q Chronograph excels in its classic styling, proportionate design, and high-quality strap, offering great value for its price.
Cons: Some aspects, like the mismatched date wheel and the divisive 12 o'clock "Q" emblem, might not appeal to all enthusiasts. The case finishing, while eye-catching, is simple and may not satisfy detail-oriented collectors.
Related to: The Pros and Cons of Having a Watch Winder: 2023's Comprehensive Guide 
Elevating Your Timex Q Chronograph: The Ultimate Watch Winder Selection
When it comes to enhancing the experience of owning a Timex Q Chronograph, the right watch winder is not just an accessory, it's a necessity. For enthusiasts who value precision and care, selecting the perfect winder is as crucial as choosing the watch itself. Enigwatch understands this synergy and offers an exclusive range of watch winders that complement the elegance and functionality of your Timex Q Chronograph, ensuring your timeless piece is always ready for its next adventure.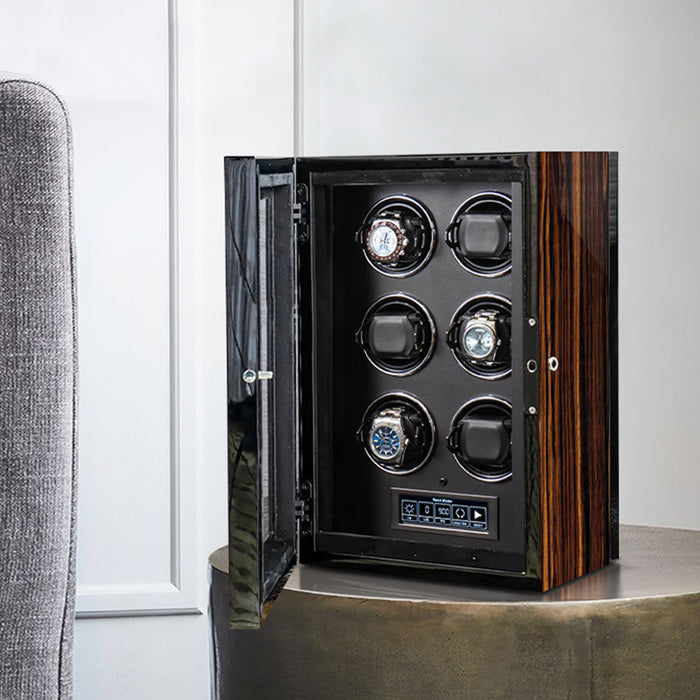 The Virtuoso™ 6 Watch Winder is not just a winder; it's a testament to the sophistication that your Timex Q Chronograph deserves. Designed to match the elegance and mechanical prowess of the Timex Q, this winder ensures your watch is always on time and in style. Its state-of-the-art winding technology mimics natural wrist movement, providing optimal care for your cherished timepiece. With its sleek design and superior functionality, the Virtuoso™ 6 is the ideal choice for safeguarding and showcasing your chronograph. Don't just store your watch; celebrate it with the Virtuoso™ 6. Explore now!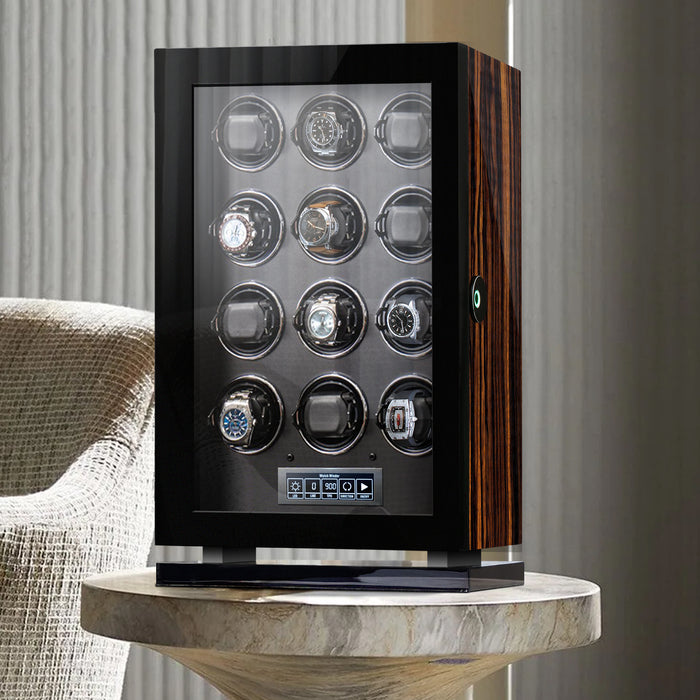 Maximize your Timex Q Chronograph experience with the Impresario™ Series 12 Watch Winder. This winder is more than just a functional accessory; it's a luxury statement that resonates with the quality of your Timex Q. Designed for the discerning collector, the Impresario™ Series 12 not only keeps your watch in impeccable condition but also enhances its display. Its advanced winding mechanism ensures your Timex Q is always ready for action, while the exquisite craftsmanship reflects the prestige of your timepiece. Make a statement of unparalleled elegance and functionality with the Impresario™ Series 12. Discover the unmatched sophistication!
Read more: Be the Boss: The 6 Best Chronograph Watch for Successful Meetings  
Conclusion
The Timex Q Chronograph masterfully combines retro style with modern functionality, making it a standout choice for both watch enthusiasts and casual wearers. Its unique design, inspired by the 70s, and reliable chronograph features offer great value. Despite some minor quirks, these characteristics add to its charm, making it more than just a timekeeper but a piece of wearable history. The Timex Q Chronograph represents Timex's commitment to affordable and stylish watches, proving to be an excellent addition to any collection.