The quest for the perfect outdoor adventure watch can be as challenging as the adventures you plan to embark on. With dozens to thousands of options available, each boasting an array of features, how do you choose the one that's right for you?
This comprehensive guide will navigate you through the rugged terrains of outdoor watch selection, ensuring you're well-equipped for your next expedition.
Style Meets Function: Fashionable Yet Rugged
Who says outdoor watches can't be stylish? The best outdoor adventure watches shatter this myth, offering a variety of designs that look as good at a mountaintop as they do at a downtown café. They're the perfect synthesis of form and function, making them a statement piece for the fashion-forward adventurer.
Read more: 6 Best Watches Under $5000 to Level Up Your Style 
Essential Features of the Ultimate Outdoor Adventure Watches
Embarking on an outdoor adventure demands gear that's as tough and ready as you are. This means strapping on a watch that's built to conquer the elements and empower your journey. Here's a distilled list of the top 10 must-have features that define the best outdoor adventure watches, ensuring you're equipped for whatever nature throws your way.
Robust Build: Look for shock-resistant materials like titanium or stainless steel that can take a beating.
Waterproofing: A minimum of 100-meter water resistance is essential for any aquatic adventures.
GPS Navigation: Essential for route tracking and finding your way in unfamiliar terrain.
Extended Battery Life: Long-lasting power, with solar charging as a bonus, keeps your watch going as long as your adventure.
Health Monitoring: Track your heart rate, altitude, and orientation with built-in sensors.
Weather Readiness: Stay ahead of storms with real-time weather updates and alerts.
Visibility in Darkness: A luminous display ensures time is always visible, night or day.
Durable Strap: A secure and comfortable strap that withstands harsh conditions is non-negotiable.
Smart Connectivity: Sync with devices for a seamless tech-integrated experience.
Emergency Features: SOS signals and location beacons for safety in critical situations.
Traversing the World: 7 Best Outdoor Adventure Watches
As the wild calling beckons, a robust watch is an essential ally. It's not just about keeping time, but about enduring alongside you as you brave the elements. From the depths of the ocean to the heights of the mountains, the following seven watches are crafted for the bold.
Each one is a beacon of resilience, precision, and style, ready to join you on your next journey into the wilderness. Let's delve into these champions of outdoor adventure. 
Hamilton Khaki Field 44mm
Style: Military

Case Size: 44mm

Case Material: Sandblasted steel

Water Resistance: 100m
A robust military-inspired timepiece, the Hamilton Khaki Field offers a large 44mm sandblasted steel case for durability and a clear view. Water-resistant up to 100m, it's built for the rigors of outdoor adventures.
Citizen Promaster Diver Ecozilla
Style: Diver

Case Size: 48mm

Case Material: Ion-plated steel

Water Resistance: 300m
The Ecozilla is a beast of the deep with a 300m water resistance. Its ion-plated steel and Eco-Drive technology make it a reliable companion for any diving expedition.
Seiko 5 Sports SKX Camouflage
Style: Sports

Case Size: 42.5mm

Case Material: Black-hard coated case

Strap: NATO
This Seiko 5 Sports watch combines a sporty aesthetic with practical functionality. The camouflage pattern and NATO strap make it ideal for outdoor enthusiasts who value both style and performance.
Related to: 5 Best Seiko Watches Under $500 : Affordable Excellence

Timex Expedition North Field Post
Features: Sapphire crystal, lumed dial markings

Case Material: Matte grey

Sustainability: Solar charging, 100% recycled plastic NATO strap
The Timex Expedition North is a testament to sustainability and ruggedness, featuring solar charging and a recycled strap. Its sapphire crystal and lumed dial are perfect for timekeeping in the wilderness.
Marloe Watch Company Sceptre Aggron
Movement: Miyota 9039

Case: Sandblasted

Dial: White with minimalist crisp hands
The Sceptre Aggron from Marloe Watch Company boasts a minimalist design with a crisp white dial and sandblasted case. It's a stylish yet functional choice for the discerning adventurer.
Casio G-Shock GBA-900-4AET
Features: GPS, step counter, Bluetooth app

Case: Classic G-Shock

Strap: Olive
Casio's G-Shock GBA-900-4AET is the ultimate outdoor watch with GPS, a step counter, and Bluetooth connectivity. Its classic G-Shock case ensures resilience against the toughest conditions.
Farer Lander Kano 36mm
Movement: Swiss

Features: 24-hour scale, fuchsia-filled arrow
The Farer Lander Kano is a sleek, Swiss-movement watch featuring a unique 24-hour scale and a vibrant fuchsia-filled arrow. It's a sophisticated option for the outdoor explorer who doesn't compromise on style.
Related to: 10 Swiss Watches Under 1000 USD, Most Luxury on a Budget!   
Top-Tier Maintenance: The Premier Watch Winder for Your Outdoor Adventure Timepieces
Even the most resilient watches need care. Enter the world of precision upkeep with Enigwatch's elite selection, where the synergy of technology and craftsmanship offers the perfect sanctuary for your timepiece between expeditions.
Virtuoso™ 6 Watch Winder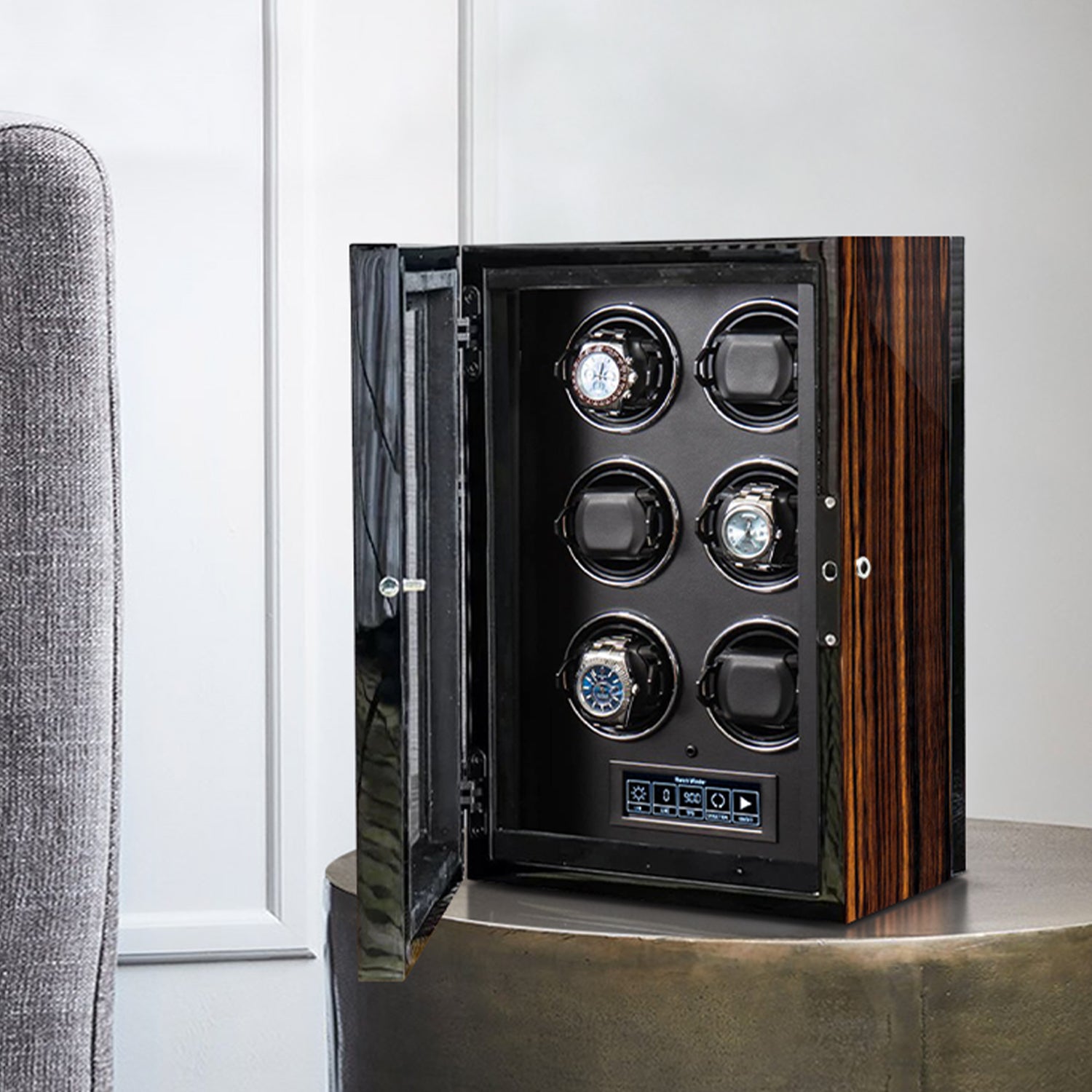 The Virtuoso™ 6 Watch Winder stands out as an essential accessory for the best outdoor adventure watches. Crafted for durability and precision, this winder keeps your timepiece in perpetual motion, ensuring accuracy and readiness for your next journey. Its robust construction mirrors the ruggedness of an adventurer's watch, while the state-of-the-art winding technology guarantees your watch is charged and synchronized with the precision of time itself. Embrace the call of the wild with confidence, knowing your watch will be adventure-ready at a moment's notice.
Impresario™ Series 12 Watch Winder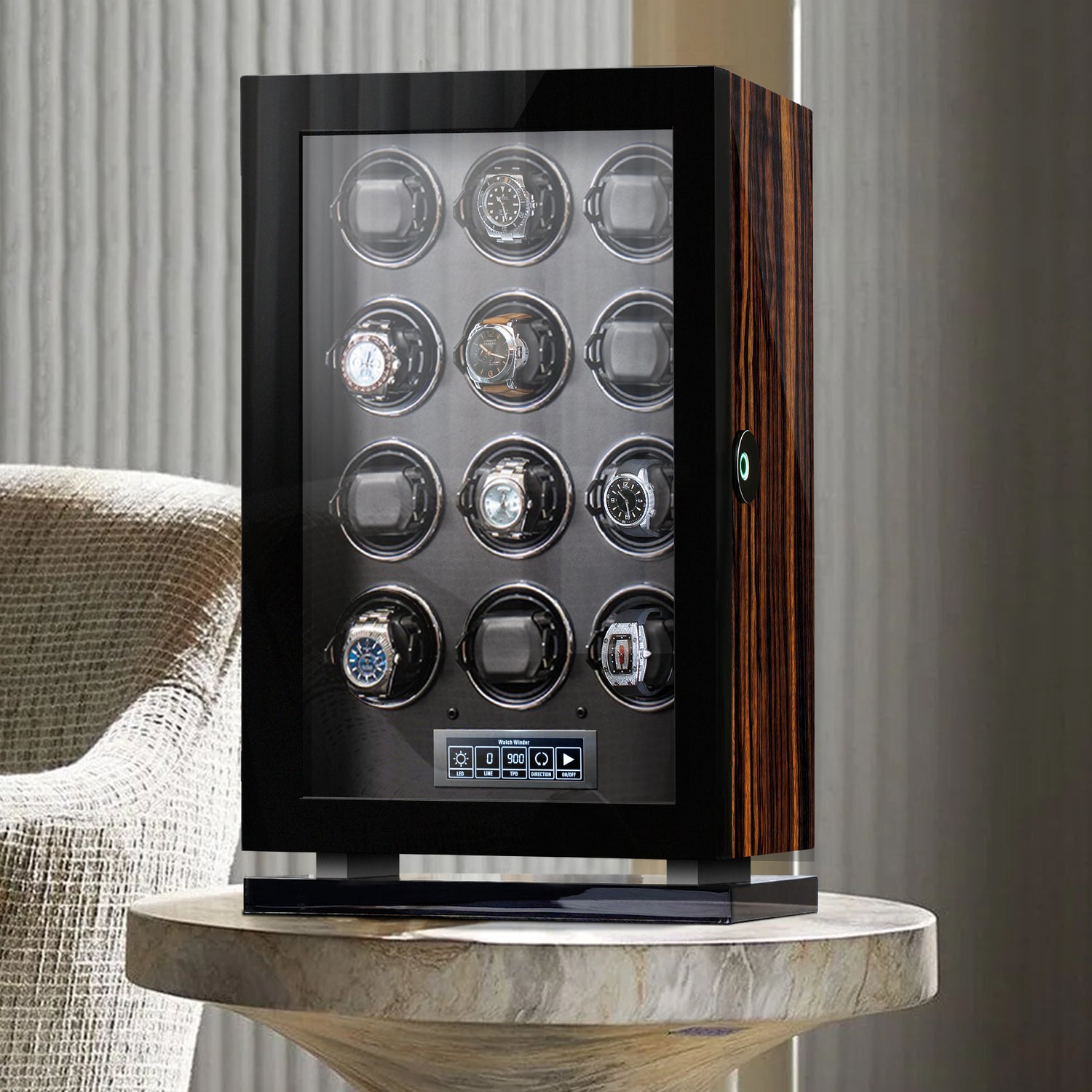 For the collector with an appetite for outdoor challenges, the Impresario™ Series 12 Watch Winder is the definitive solution for maintaining a fleet of the best outdoor adventure watches. This winder is engineered to deliver unparalleled care for each timepiece, ensuring that every watch is not just stored but is kept in prime condition, ready for the next escapade. Step into the wild with the Impresario™ Series 12, where every second counts and readiness is key – your adventure awaits, and your watches will be ready.
Conclusion: Your Next Expedition Essential
In the quest for the best outdoor adventure watches, one thing is clear: the perfect watch is out there, waiting to be strapped on your wrist. It's more than a gadget; it's a piece of the adventure itself, a fragment of the wild that you can carry with you wherever you go. So, as you prepare for your next escapade, remember that the right watch will not only tell you the time—it will help you make the most of it.